Sometimes in film marketing the easiest way to get an eyeball or two on the flick is just to name (or rename) something really close to a popular release and this trawling'll get some people who aren't looking too closely caught in the net.
The Italians really got that down to a science in the late 1970s by not only targeting George Romero's Dawn of the Dead since it was released as Zombi, but also by creating a ton of "sequels" to the original Alien. Joe Bob kind of got into that strategy by the producers over there a bit during the Season 1 presentation of Contamination (available in the Just Joe Bob area of Shudder).
Such a tradition persists today no matter who's releasing the movie and where since the distribution and media landscape's so fragmented. As mentioned by JBB in the Sharknado episode, the folks at the Asylum are some expert practitioners of the mockbuster ethos of subtly altering a word in the title to evoke some curiosity on the part of the viewer. Hey — it sounds just close enough to be something they might have missed out on when it was in theaters. It never hurts if you add an adjective, too.
Case in point — this week's flick is American Zombieland. There's no Woody Harrelson or Jesse Eisenberg or Emma Stone in it – those were the stars of the bigger-budgeted zomedy from 2009 that had a sequel and was important enough that NPR reviewed it.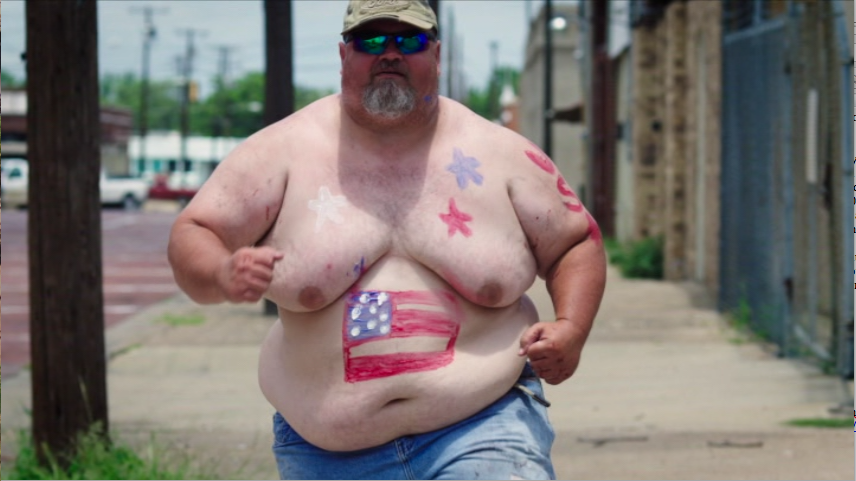 Nope, NPR predictably stayed far, far away from this one. But it does take place in the U.S. (Corsicana, Texas, in fact). There are zombies in it, and the action happens on land. The fact that it also was originally named Fat Ass Zombies might have scared off the more genteel reviewers back in 2020, thus excluding the cowardly NPR folks.
Thankfully, we have no such reservations here in the Screening Room and, in a world full of deception, we all also should give small thanks that whatever title you prefer for this one, we get some truth in advertising here thanks to writer/director George Bennett.
The flicks opens with Richard Strauss's Thus Spake Zarathrustra (the music from 2001: A Space Odyssey if you remember that far back or "Nature Boy" Ric Flair's entrance music if you don't remember that far back) and a montage of drone footage intercut with shots of overweight shirtless guys with patriotically painted chests, choo choos and the urban environs of the city of about 25,000 southeast of Dallas in Texas's Navarro County.
It seems like it's close to the Fourth of July with a ribbon-cutting ceremony, political speechifying and a spontaneous "USA" chant busting out during a Freedomcake (think Hostess-analogous) cupcake-eating contest. But since there's a classroom scene early on, maybe we're talking a big Flag Day in Corsicana here.
Simultaneous with the Flag Day celebration, film director Sam (Dave Mussen) received word that his flick "Deadbeat Zombie Dad" was harshly and brutally rejected from a film festival. Since his mom invited a bunch of people over to party and celebrate his latest movie, he lies to avoid disappointing everybody and says that his movie made it and they're one step close to their Hollywood dreams.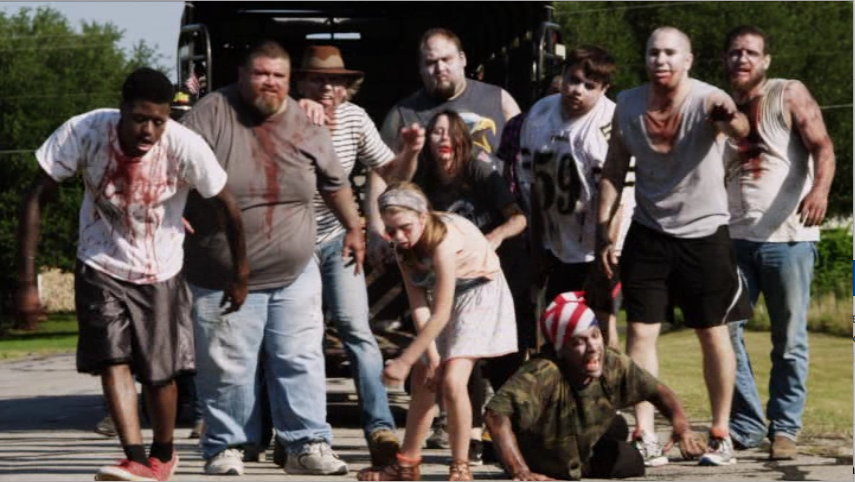 The truth comes out that Sam lied about the film fest because he gets plastered, but that's OK because the cupcakes are turning people into zombies and who better to lead the quest for survival in a small-town zombie apocalypse than a filmmaker who specializes in zombie flicks like "Zombie Space Vikings?"
The rest of the flick is Sam and his friends and crew trying to film a zombie flick using the real zombies that are running around, but this is not the typical Romero rules going on. Keep this in mind, especially in the end when they all hole up in a community theater for a last stand.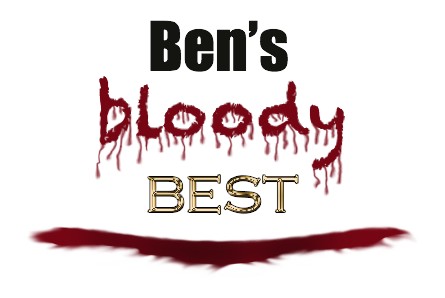 Best Example of the American Entrepreneurial Spirit: Tibo and Jojo (Bryan Handy and Benjamin Chamberlain) run a dojo and a paint business out of their band and wear Bolo Yeung "You are next" shirts and then wear Van Damme "Nack suk cao" (from Kickboxer) shirts for the rest of the zombie apocalypse.
Best Example of a Red-Blooded Redneck: Served his divorce papers, mechanic Popper (Johnny Dowers) hopes his ex gets genital herpes and poison ivy on her nipples, has his hairstyle insulted ("Your hair looks like my cousin's bleached asshole."), drinks beer throughout and hits on a bare-breasted zombie woman.
Best Single Zombie Disposal Method: During the initial zombie attack, someone does a leg sweep to a zombie with a putter and then someone else runs over its head with a lawn mower. That's the kind of cooperation this nation needs.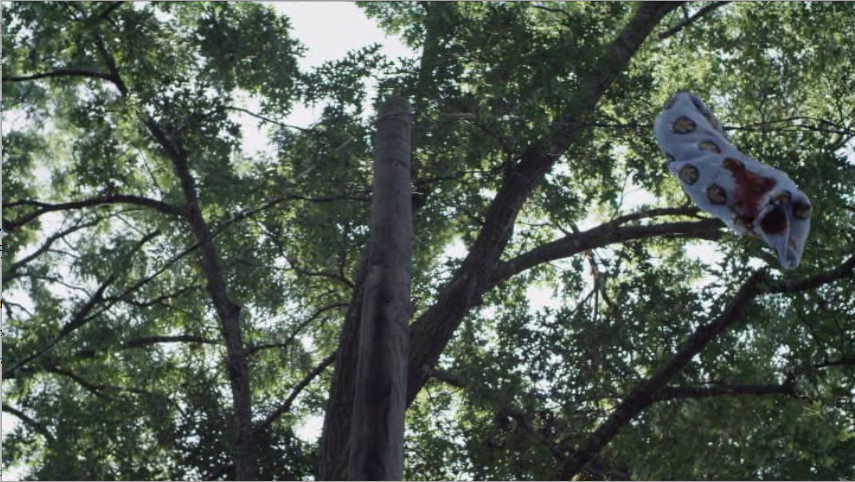 Best Baby Zombie Disposal Method: One of the two stoner guys throws a baby zombie out of a sunroof. It gets caught by a zombie that's presumably its mom, who then eats the baby zombie.
Best Mass Zombie Disposal Method: They set up a wood chipper and the chopped-up zombies get funneled up into an oil derrick so the place rains zombie blood.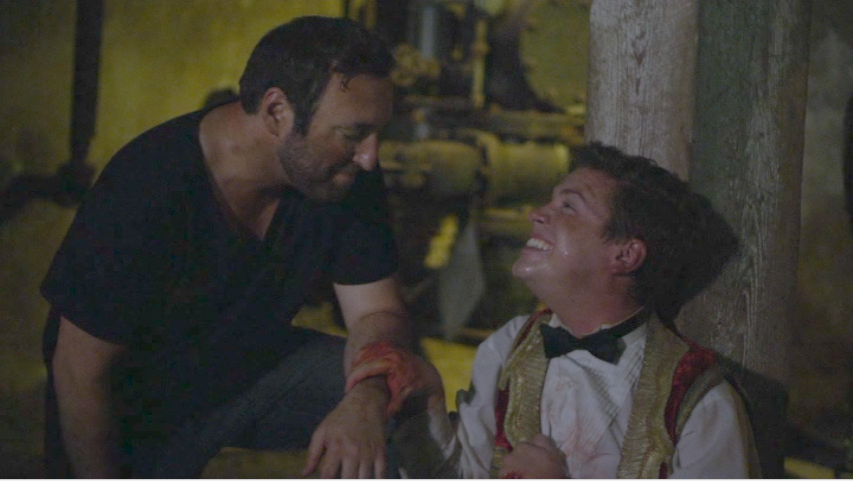 Best Performance: Horatio (Aaron David Johnson), a professional (at least in his own mind) British actor whose presence in Corsicana is never quite explained, gets bitten while doing the Hamlet "Yorick" monologue with a decapitated zombie head in the local community theater, then brutally runs down Sam in a second esteem-destroying rant (the first happened at the party): "You are a talentless sack of s—, but this is something truly genius. Sam, this could be something. You need a good zombie transformation scene. Moi. Just make sure that you get it and don't f— it up. Promise me."
Best Sacrifice: Director Sam runs off into a crowd of zombies to divert them from his friends, saying: "I'm a tasty man. Look at these meaty thighs."
There's some low-brow humor, gore, some political/media commentary and plenty of discussion of consumerism. And they have fun with it.
American Zombieland is a perfect flick for the Fourth of July (or Flag Day) and a pretty good alternative to those folks who typically watch Return of the Living Dead this time of year.
Three and a half stars. They got the most that they could out of the resources they had, broke the typical zombie rules, did it the drive-in way and were entertaining to boot. But they could have had more kung fu scenes in it since there were two guys running a dojo, so that's where the half-star deduction comes from.
Check it out streaming on TubiTV, YouTube and PlutoTV, among others. It's also out there on physical media.