---
Before we get to the good stuff:
If you had the Saturday photo opportunity with Joe Bob at the drive-in, follow this link to download your picture.
If you had the Sunday photo opportunity with Joe Bob and Darcy at the drive-in, follow this link to download your picture.
ALSO:
Now back to the blog …
---
So rather than unleash the painstakingly constructed 14,000-word think piece recapping every minute of the 2022 Drive-In Jamboree in Memphis, I figured I'd let the 76 words below and a bunch of pictures submitted by some great Mutants on Twitter do the talking … all the stuff about the Drive-In Academy Awards is at the end. Just look for the big picture of Tom Atkins' Hubbie.
We are drive-in mutants …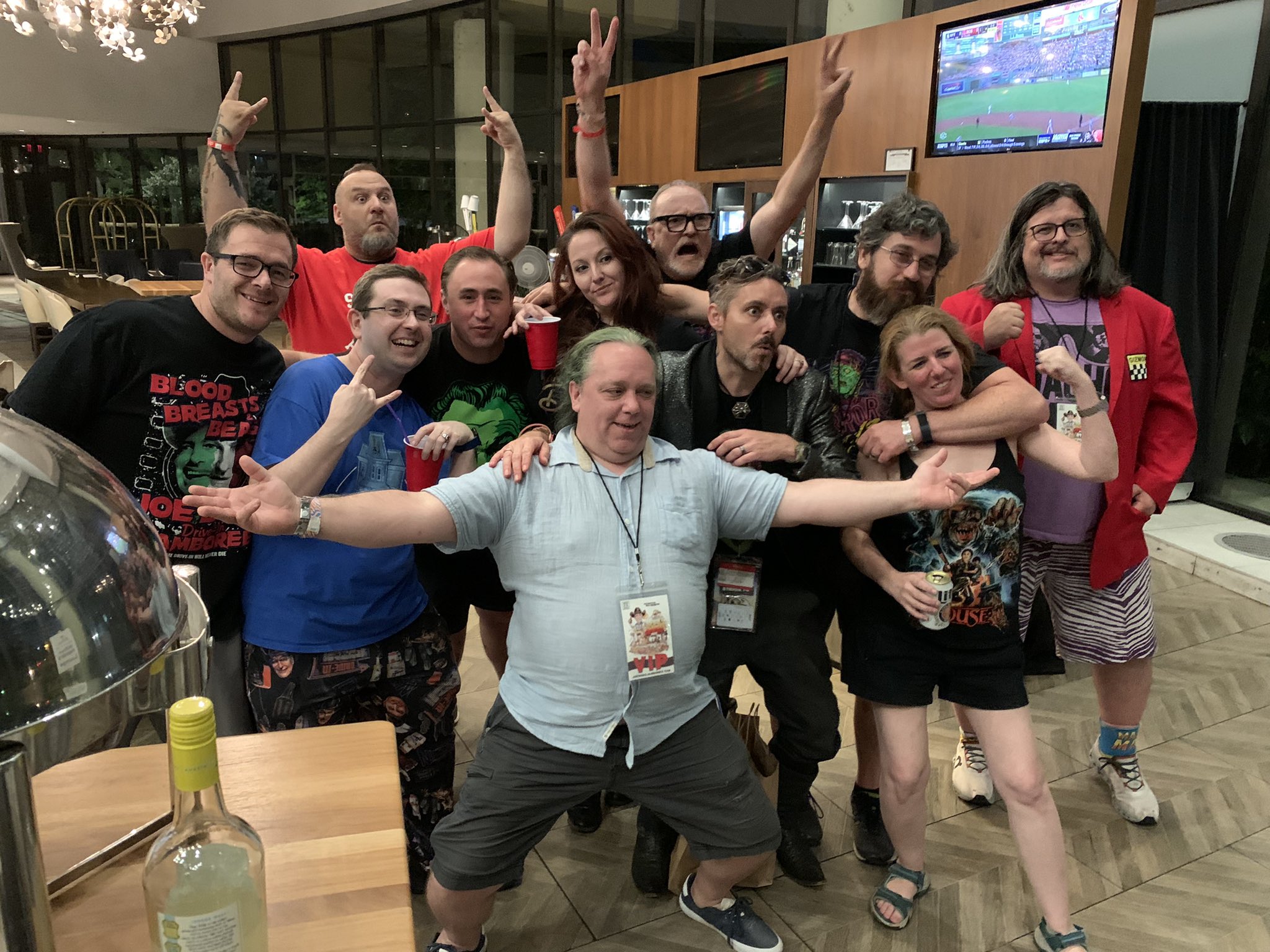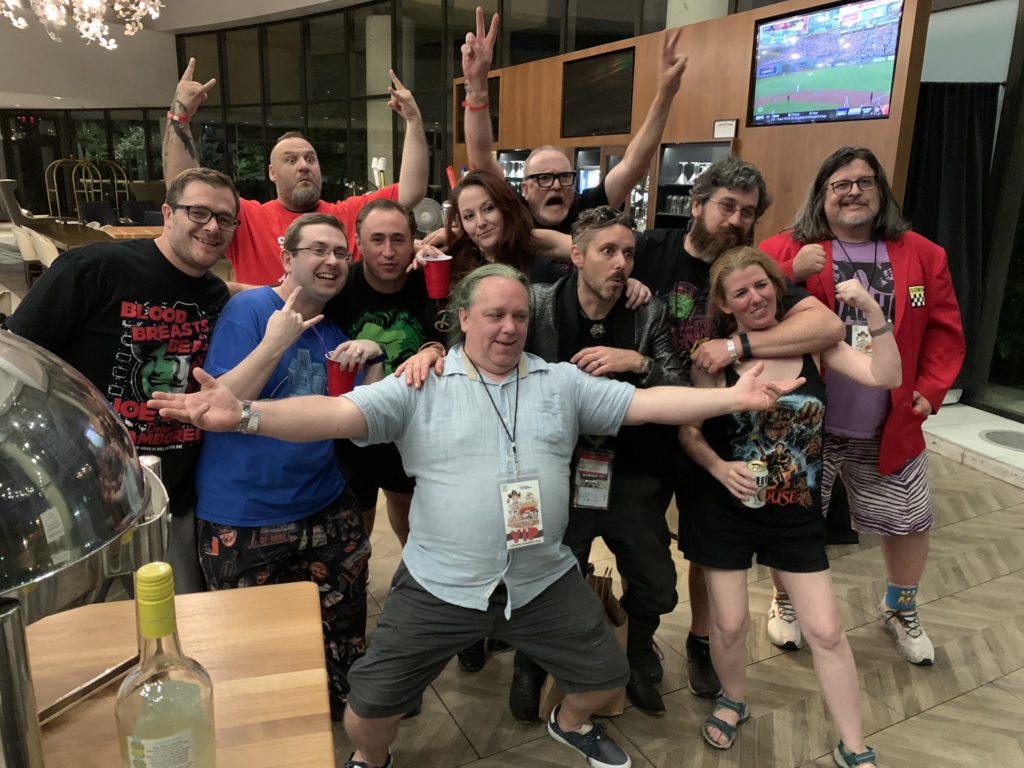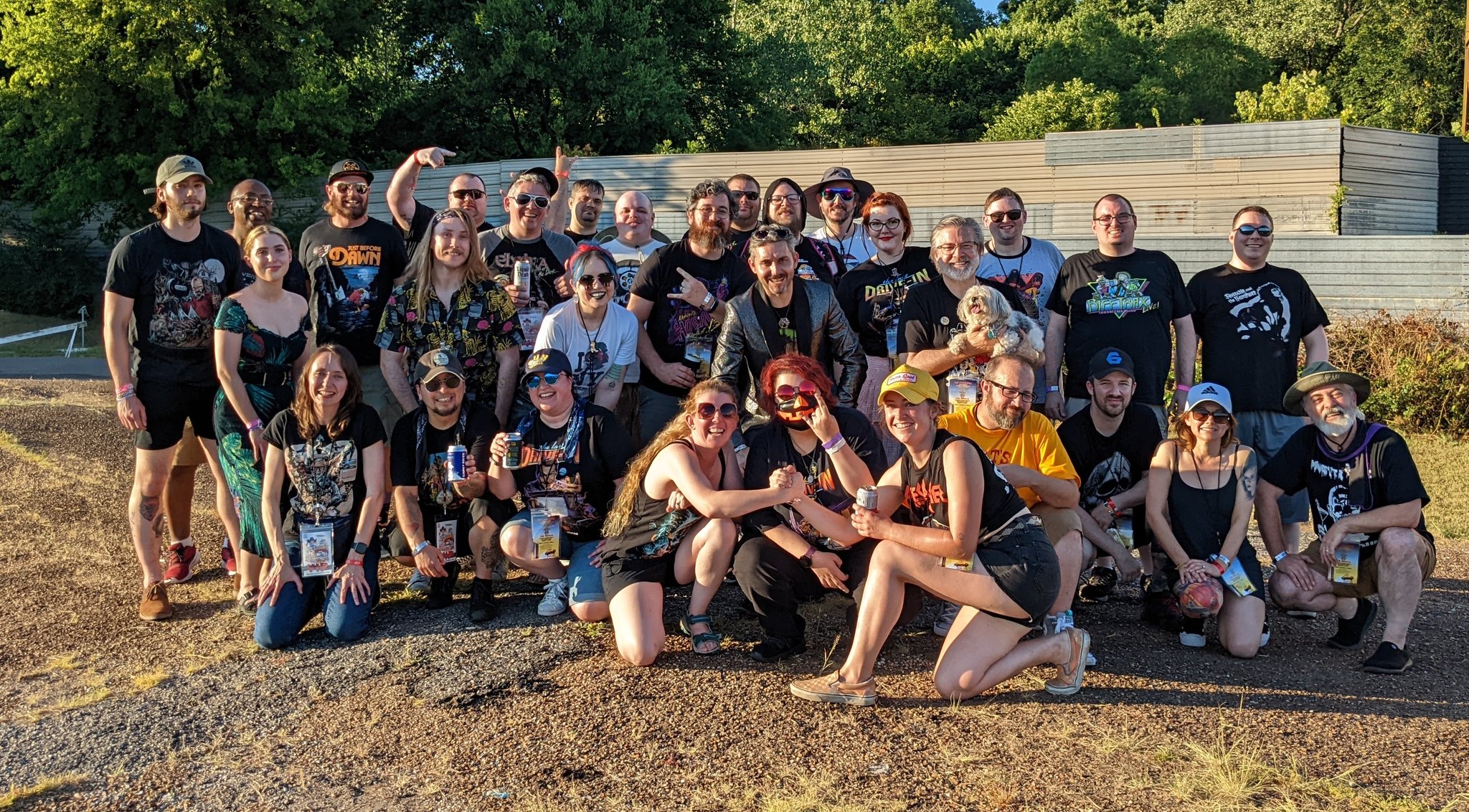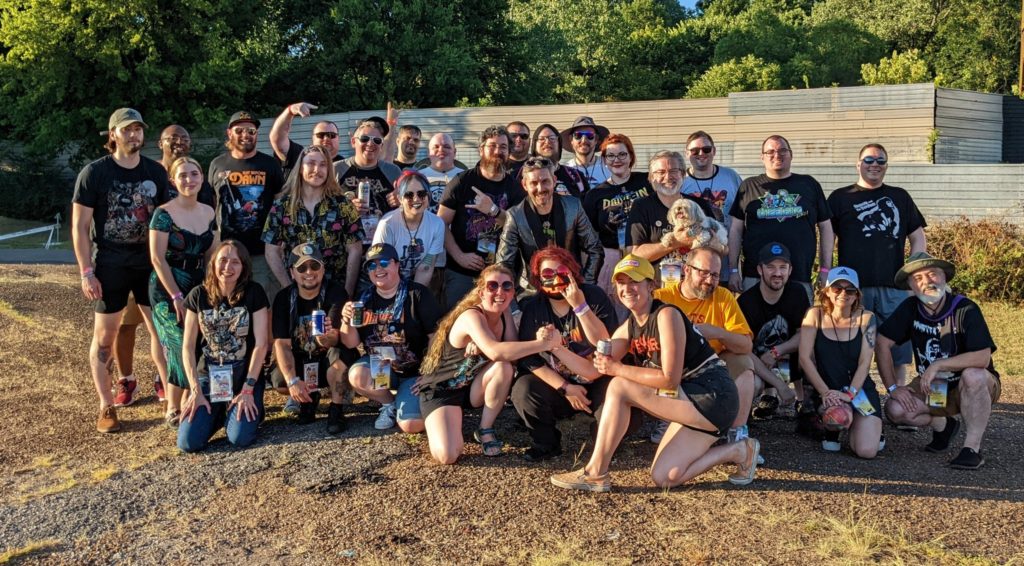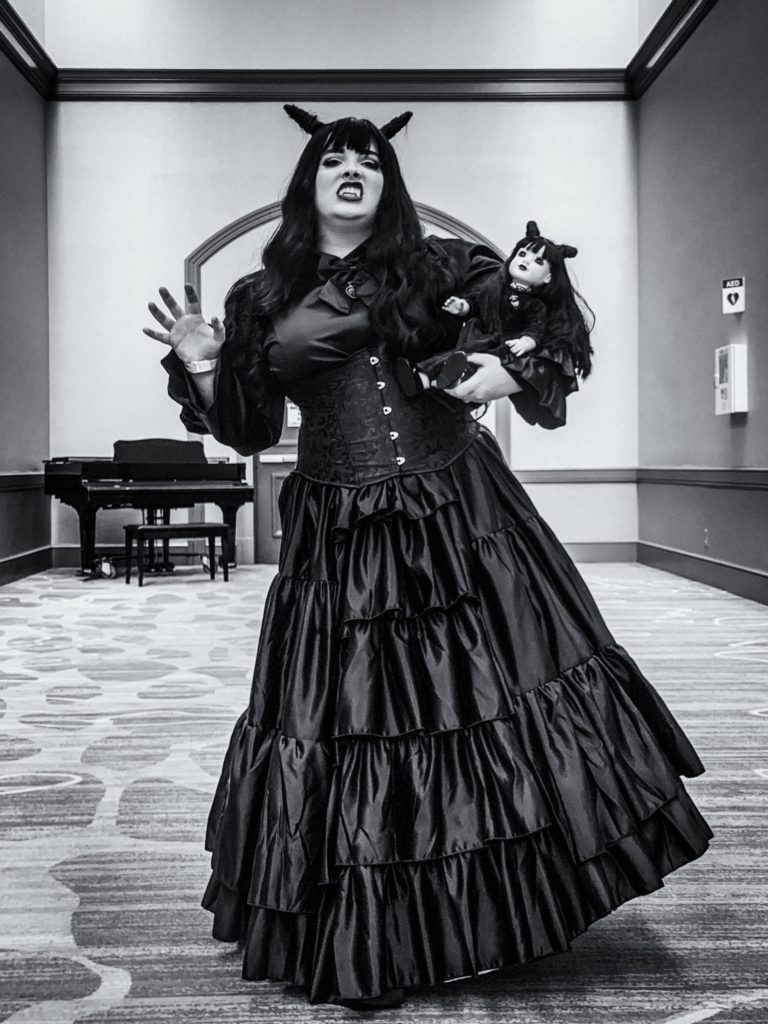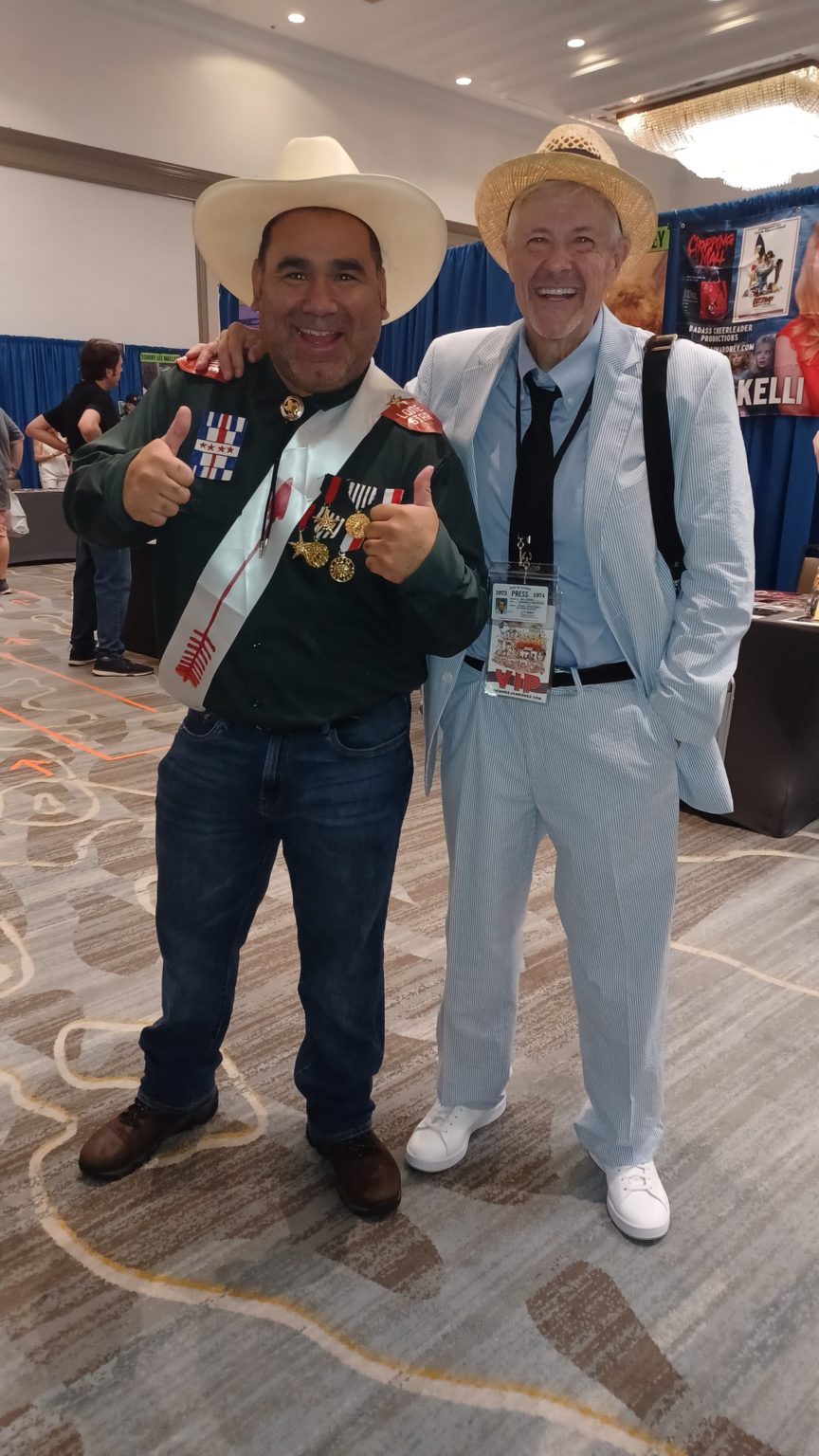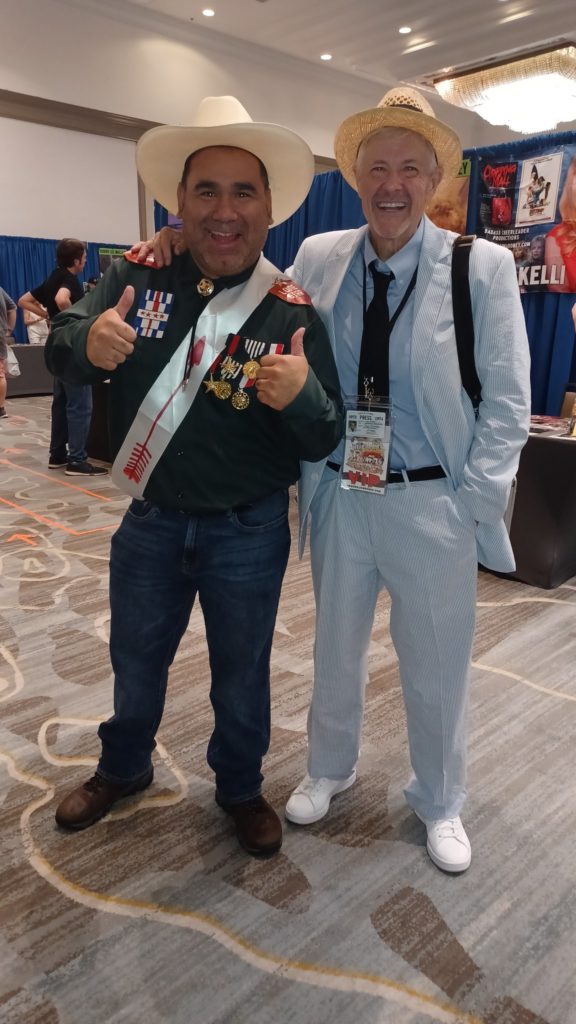 We are not like other people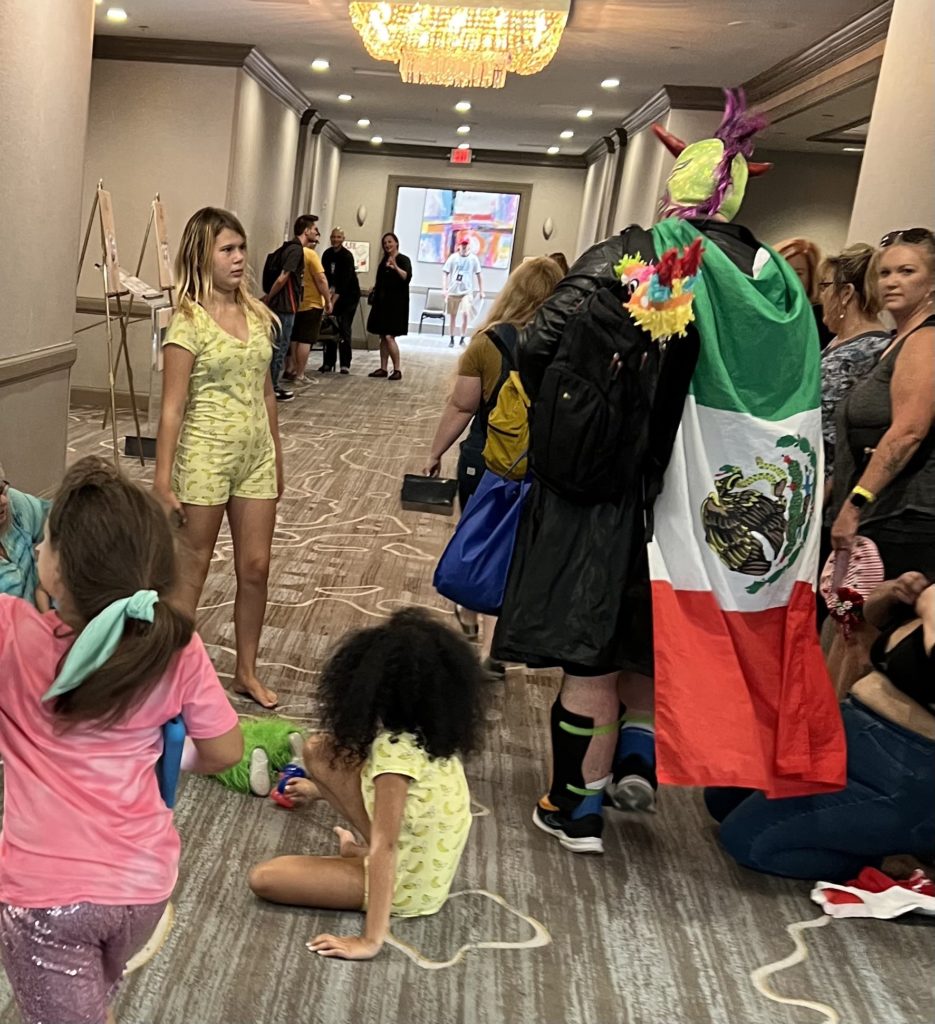 We believe in Kung Fu City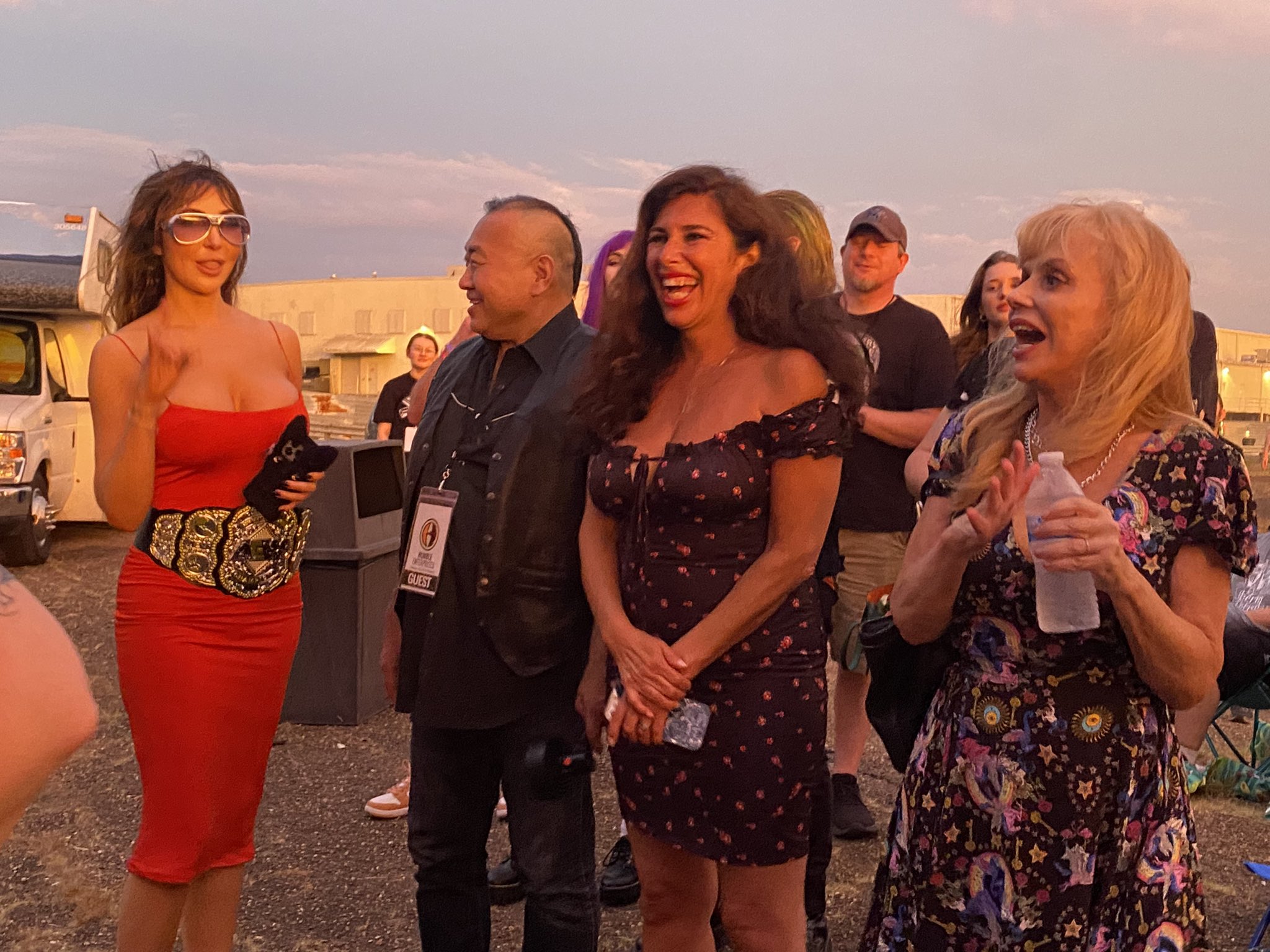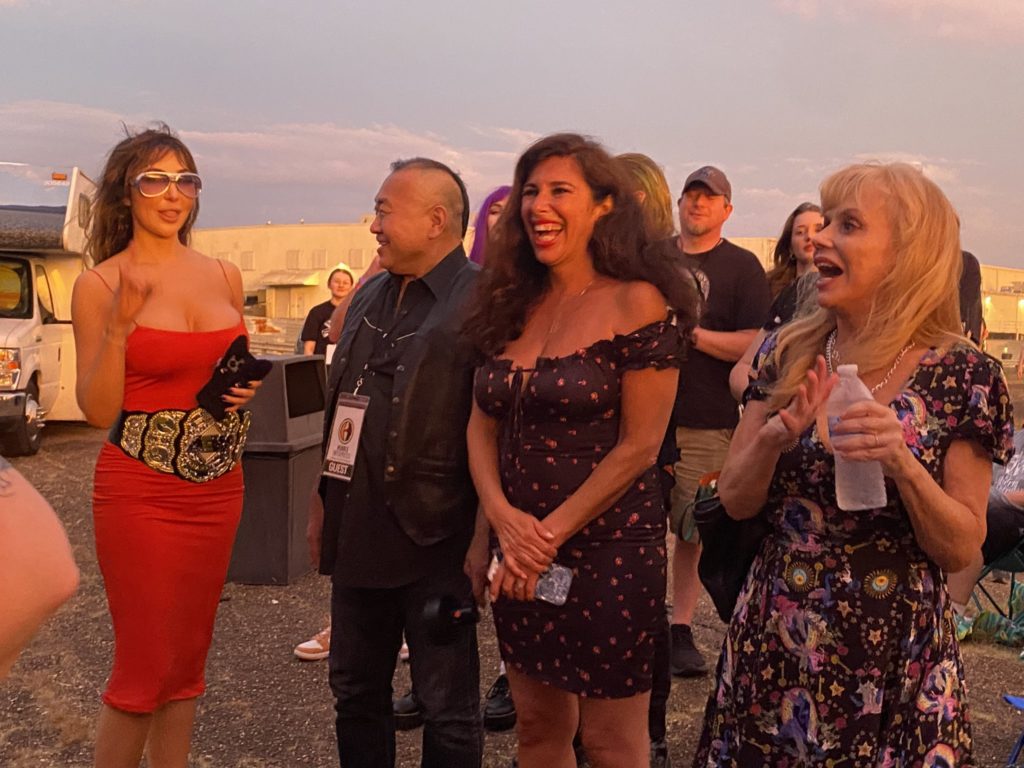 We are sick
We are disgusting
We believe
in Blood, and Breasts, and in Beasts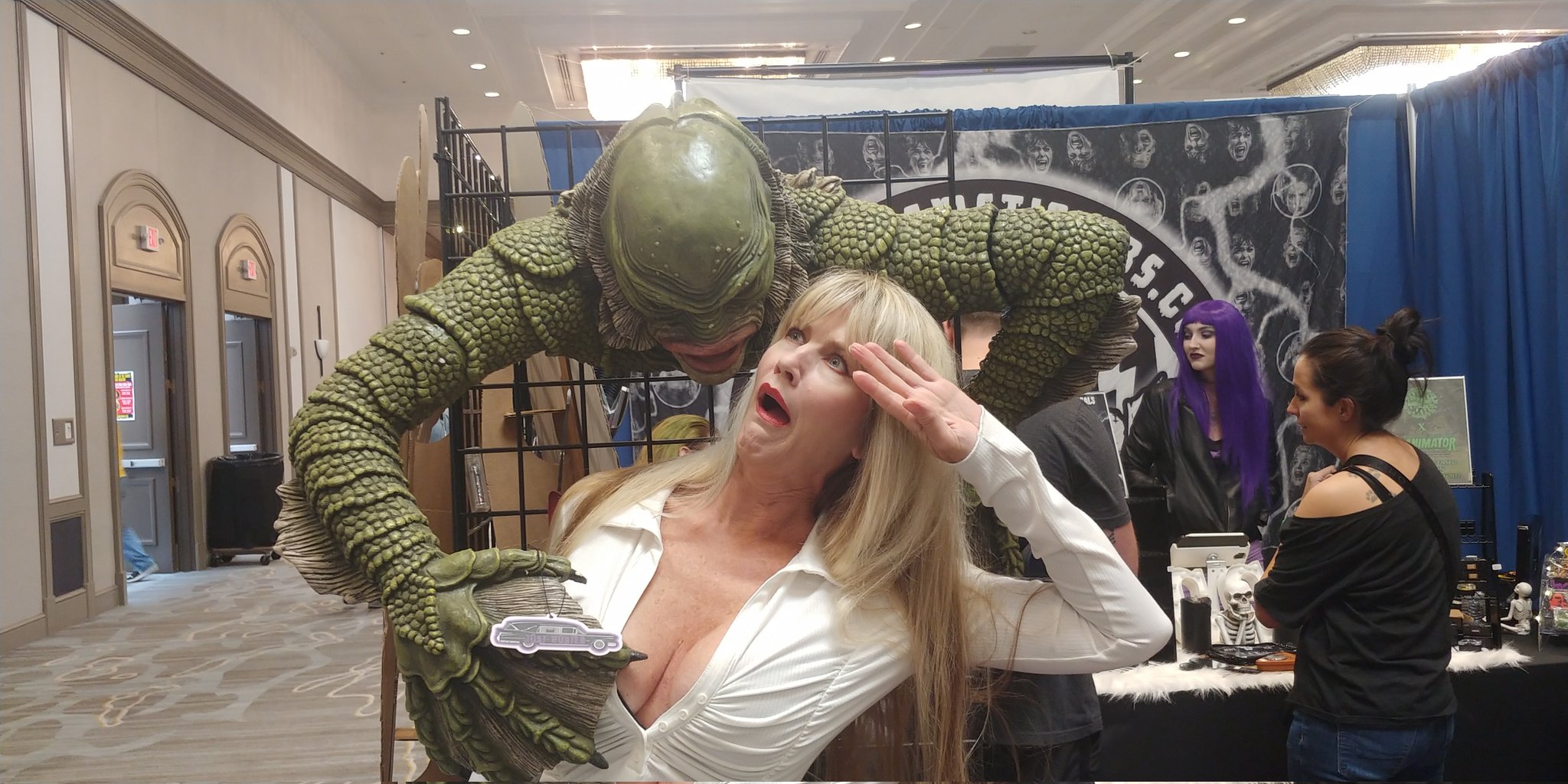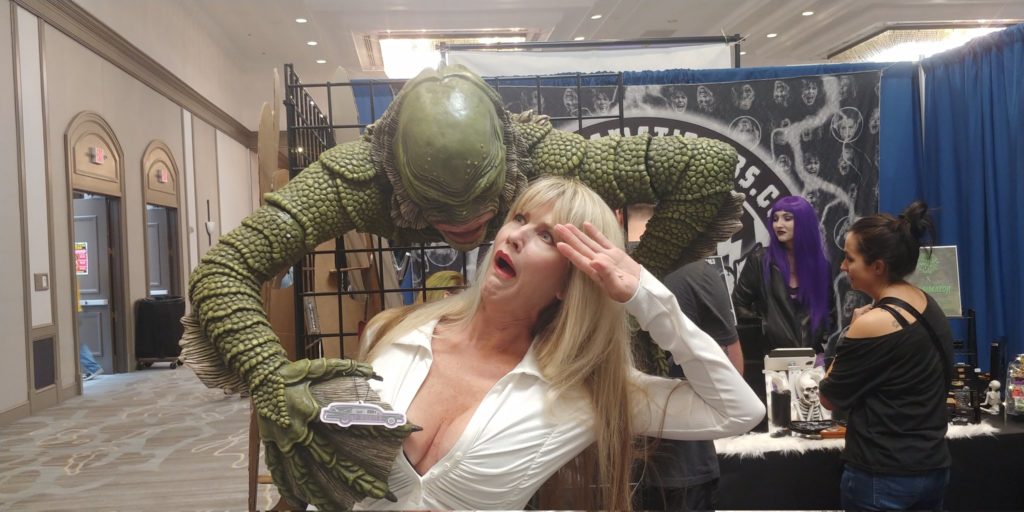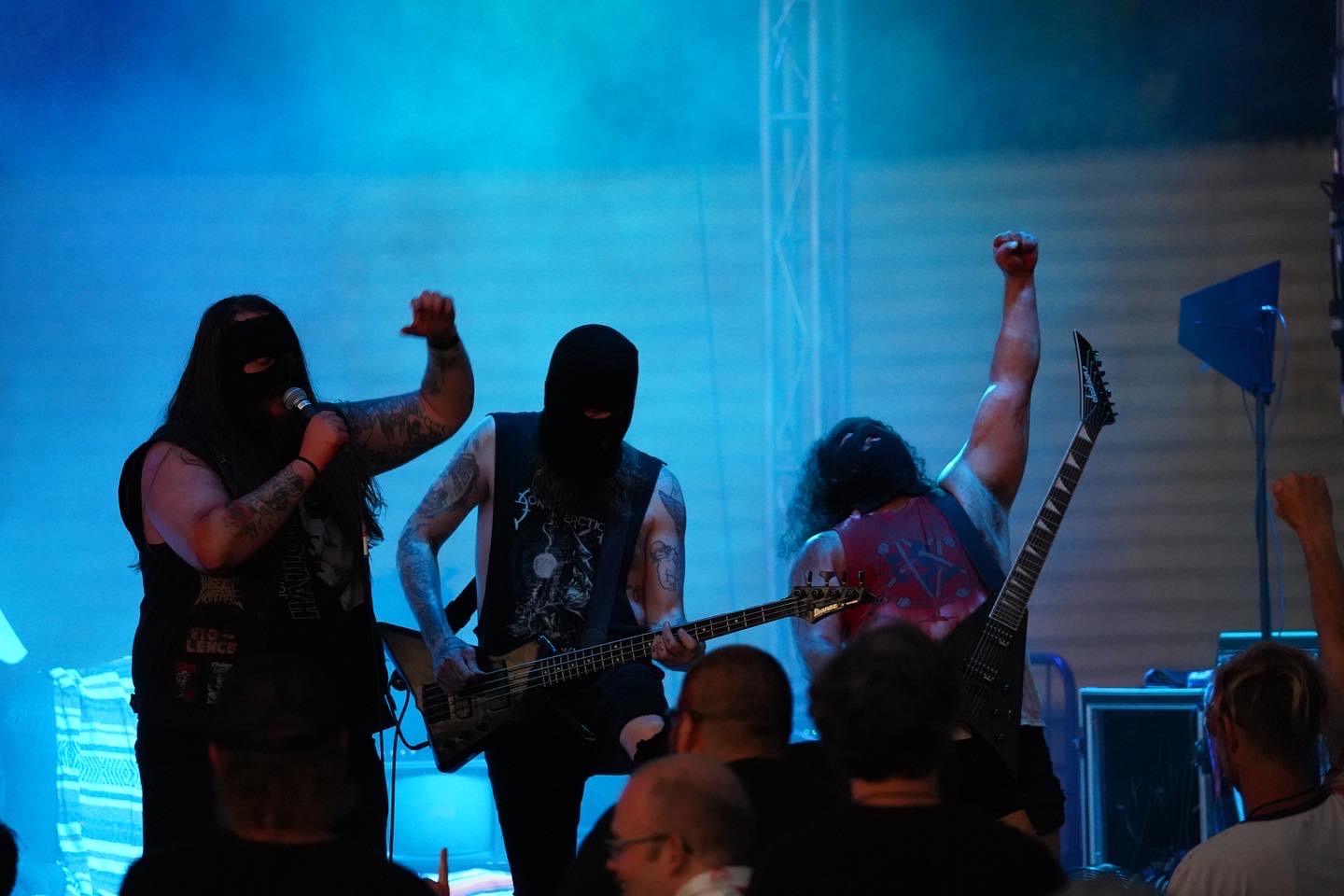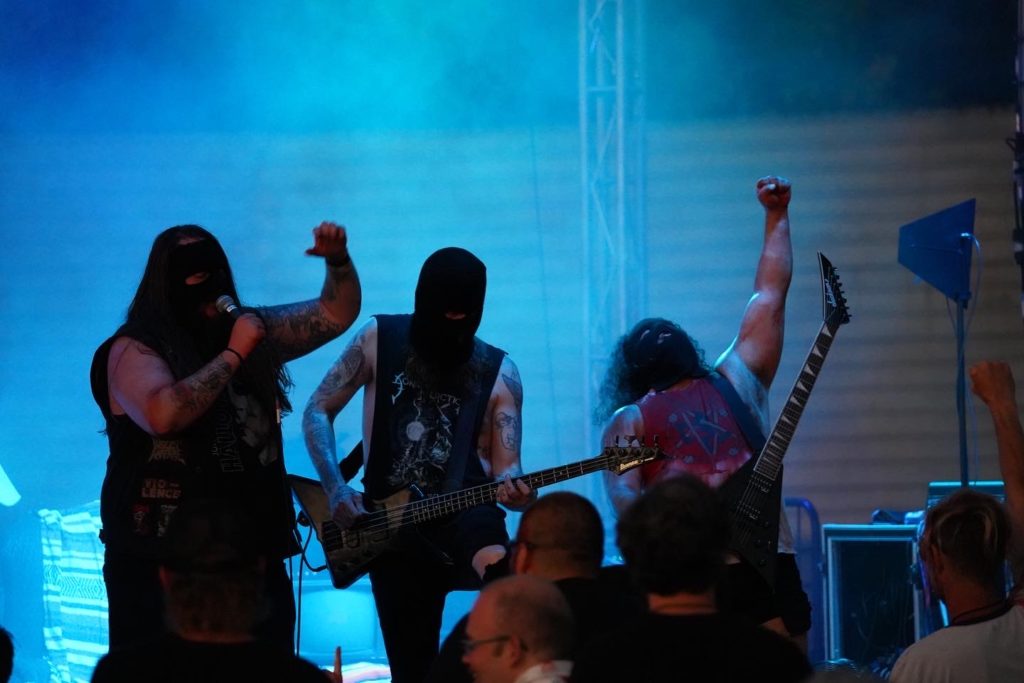 If life had a Vomit Meter
We'd be off the scale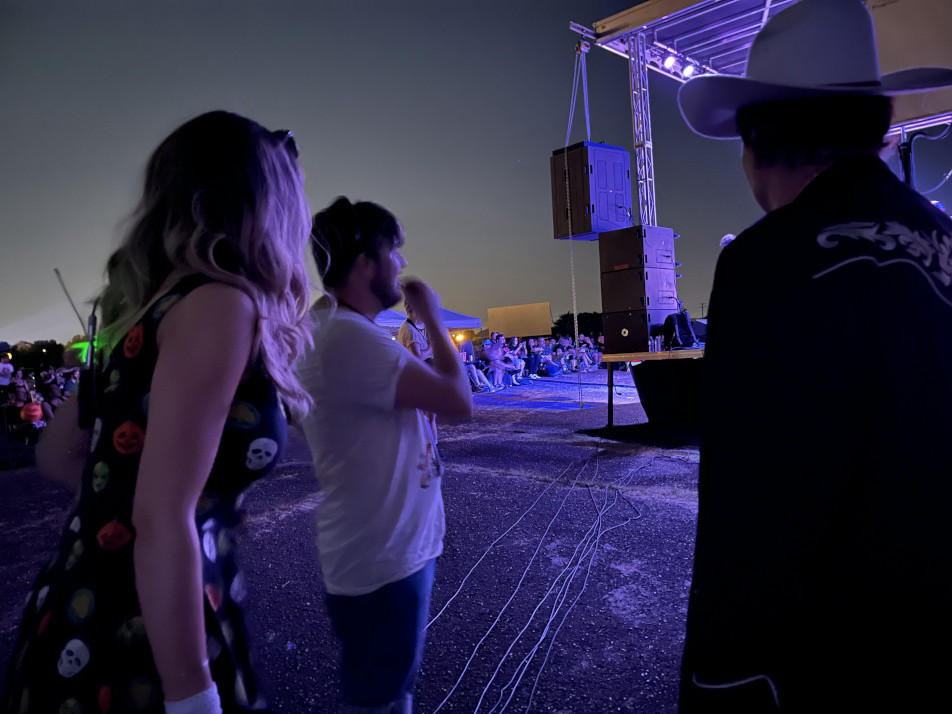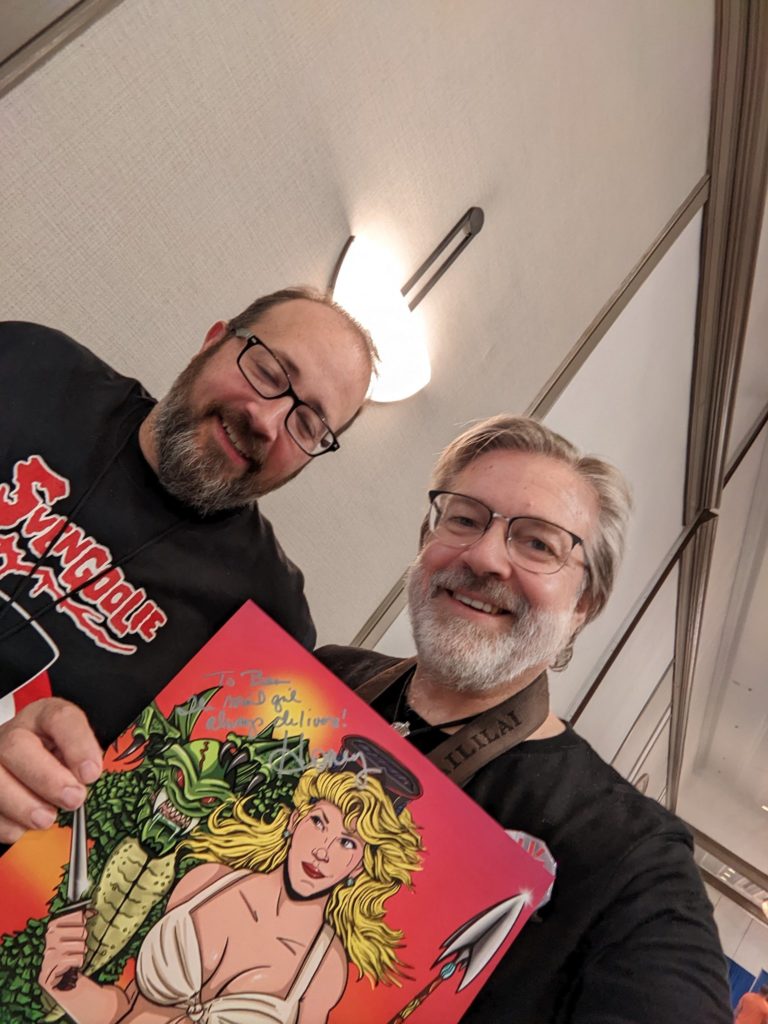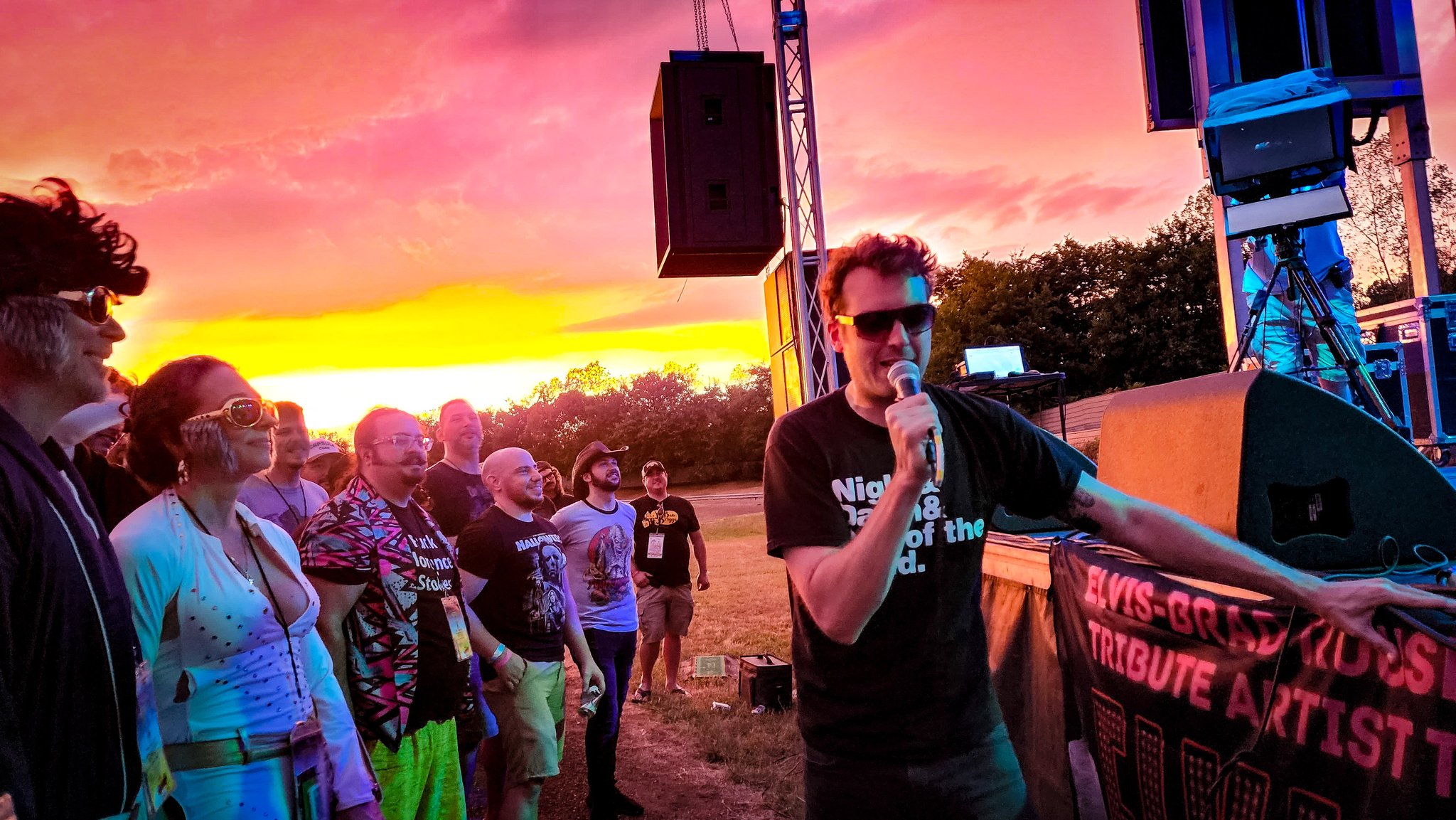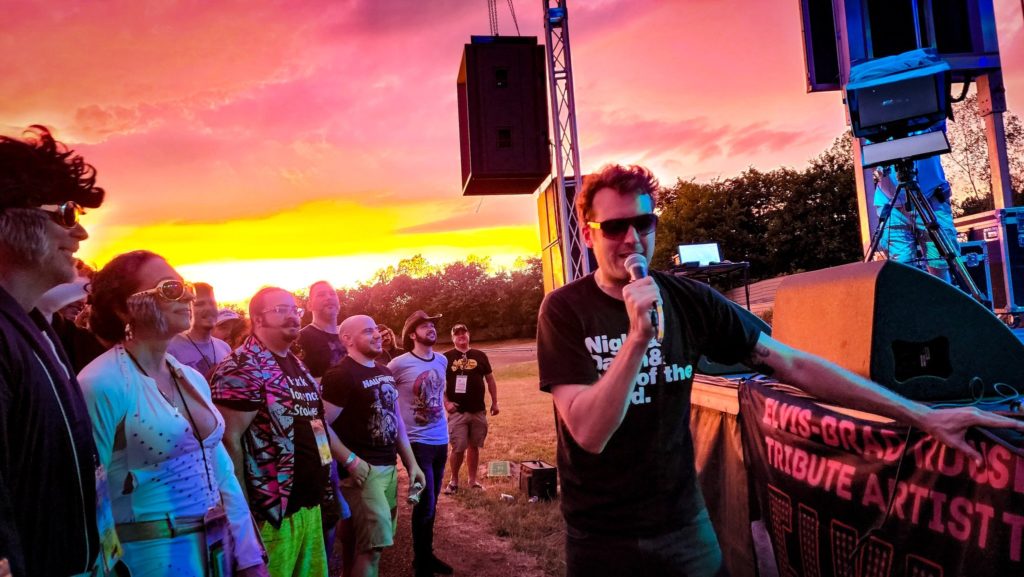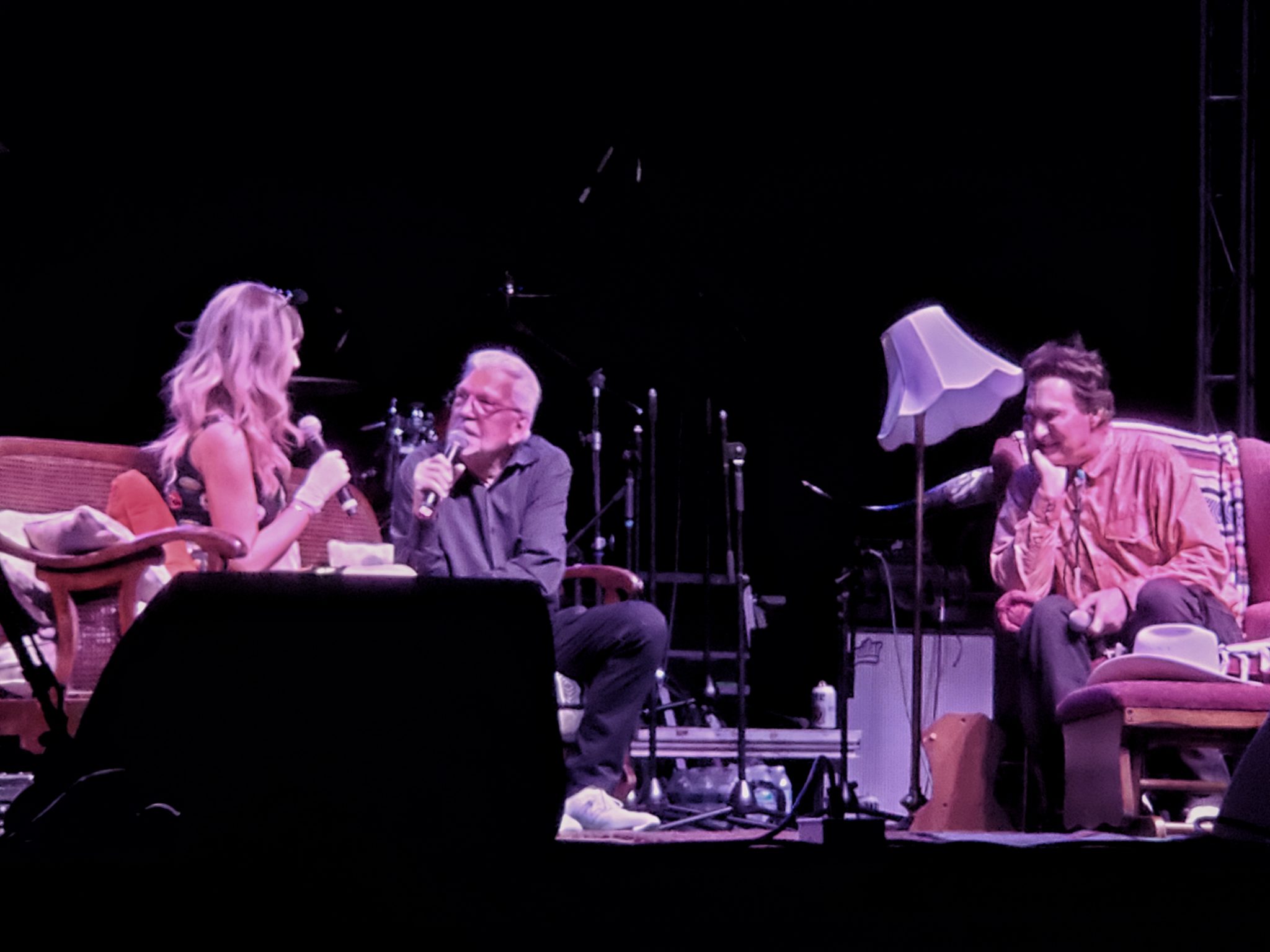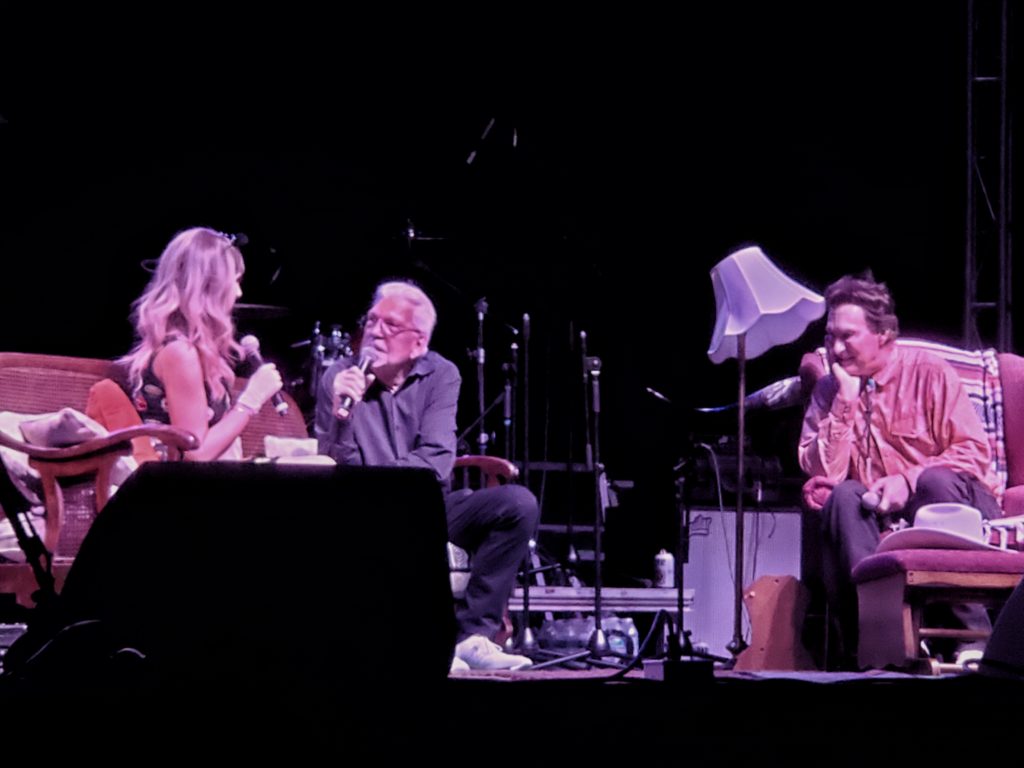 As long as one drive-in remains
On the planet Earth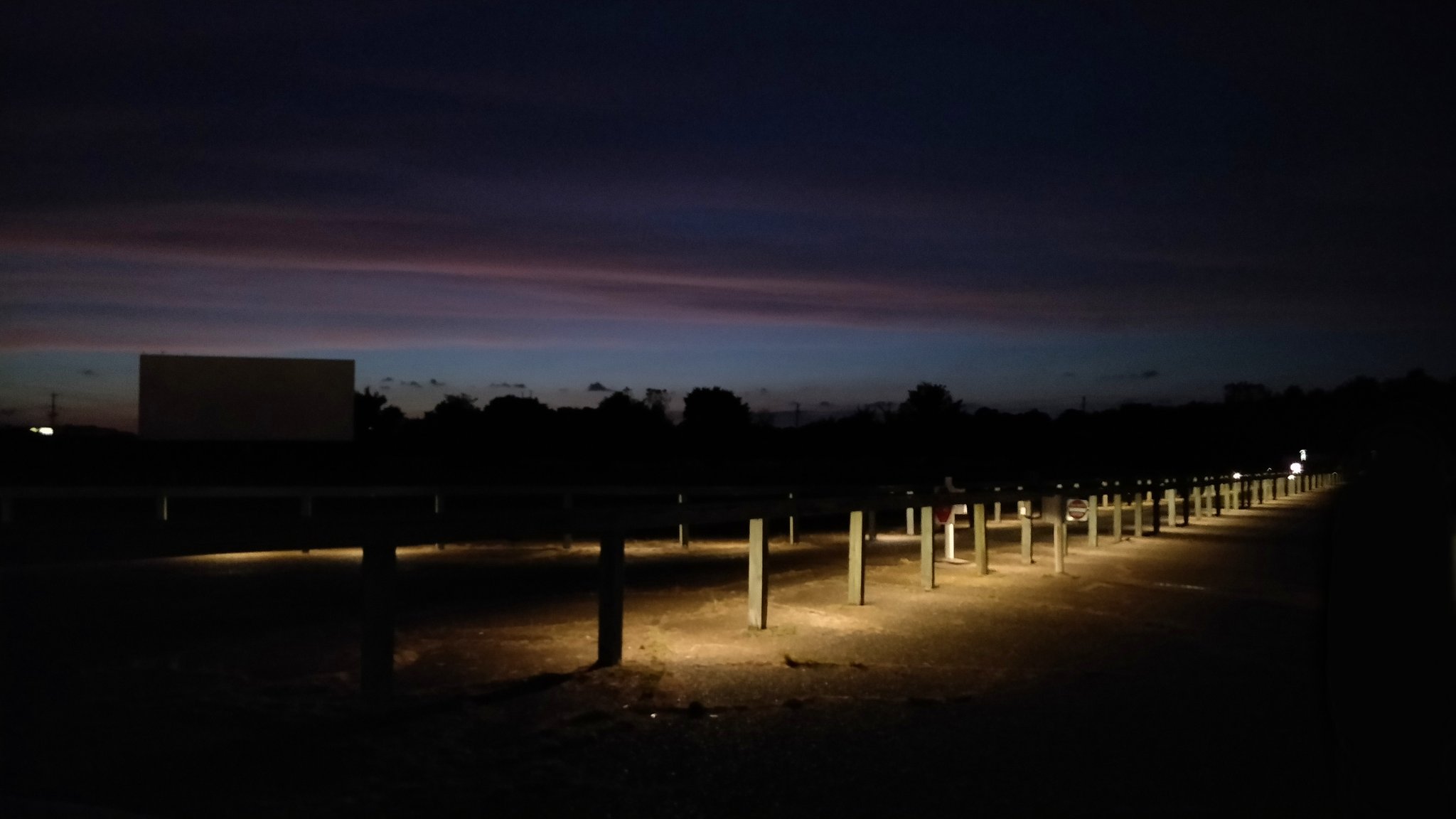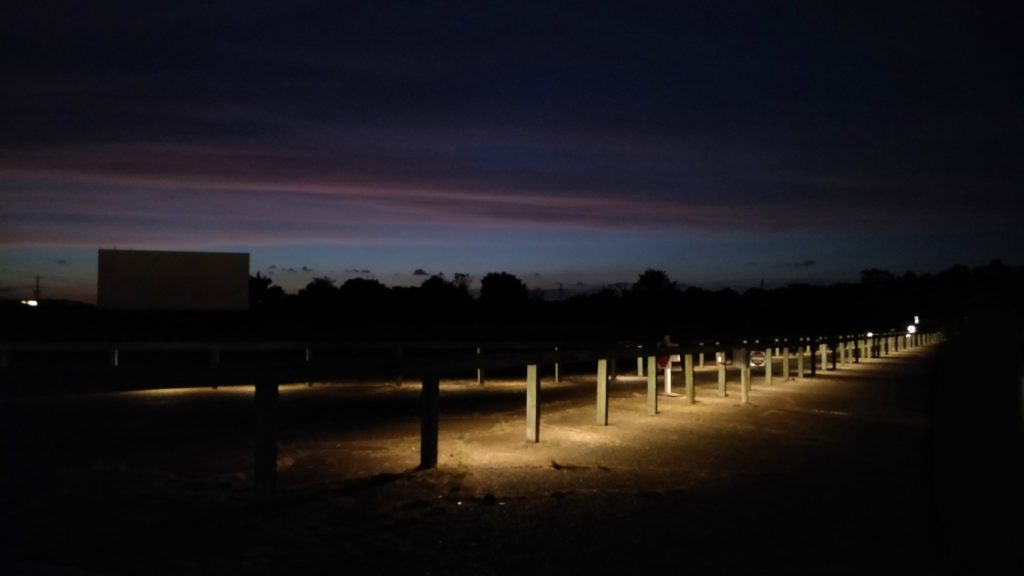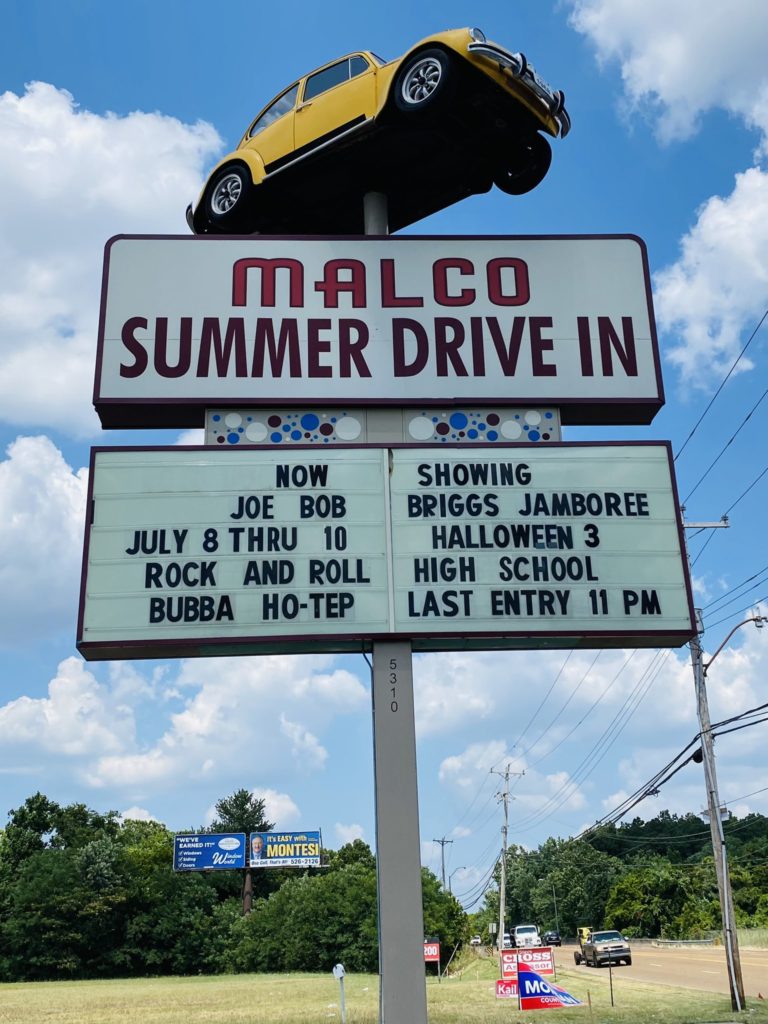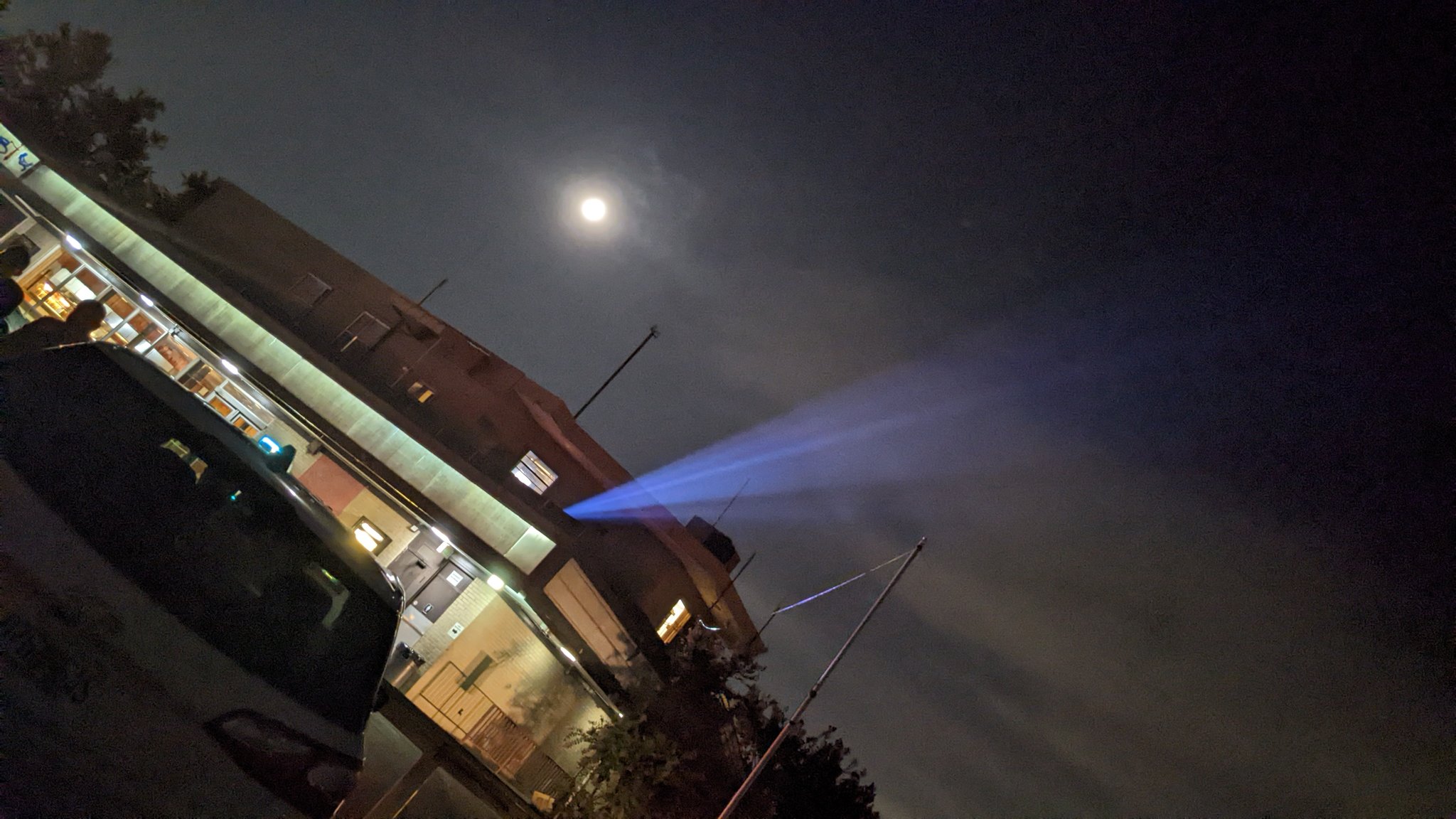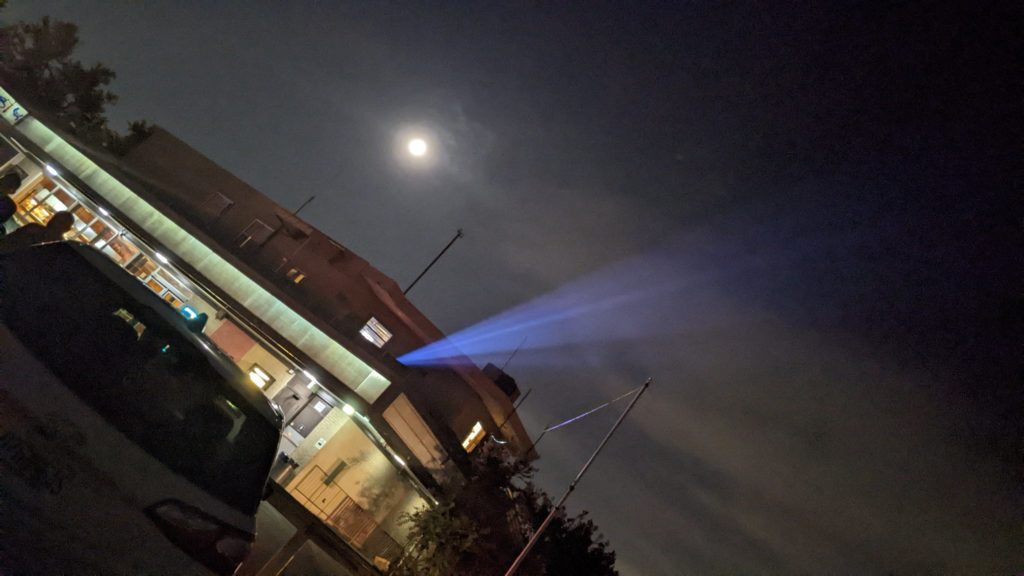 We will party like jungle animals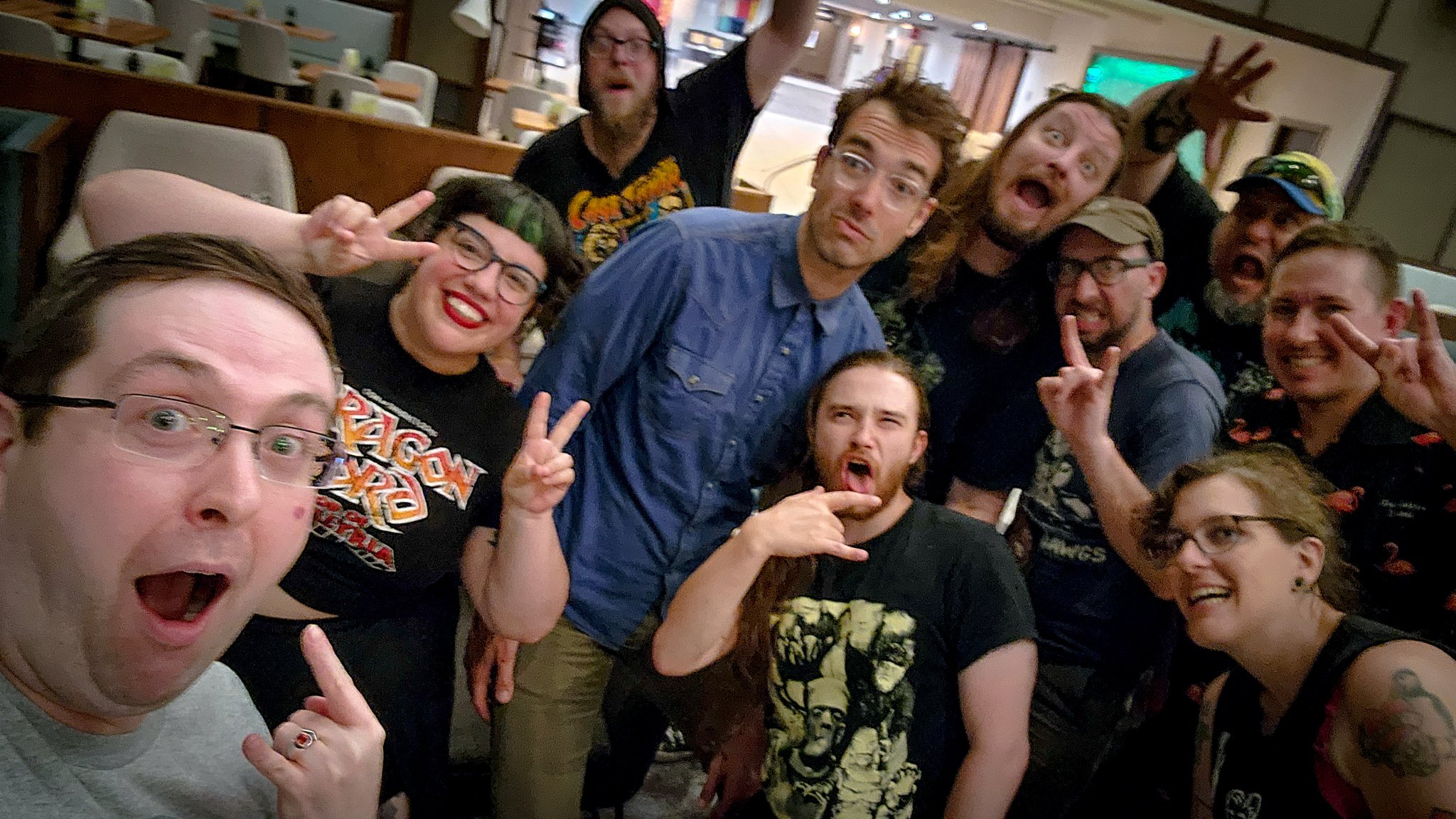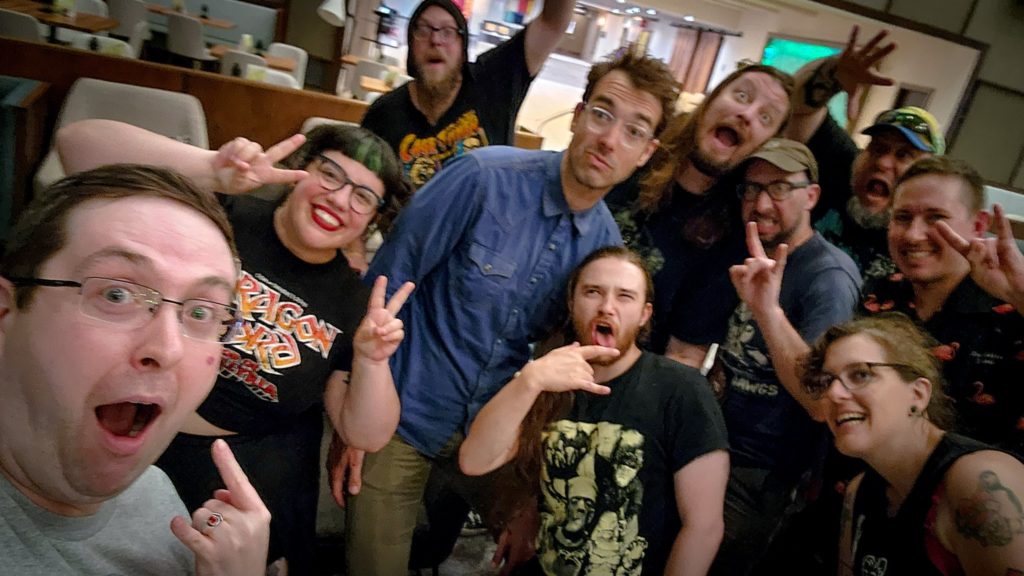 We will boogie 'til we puke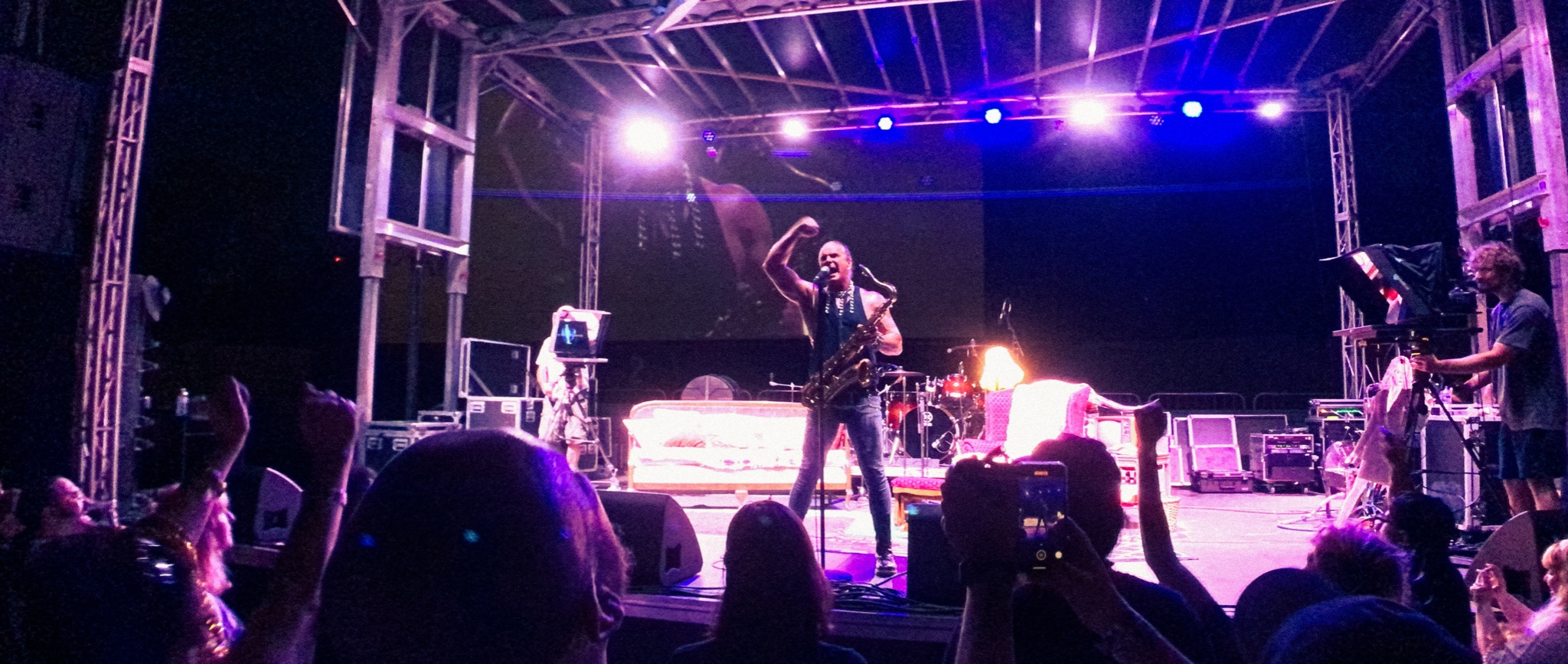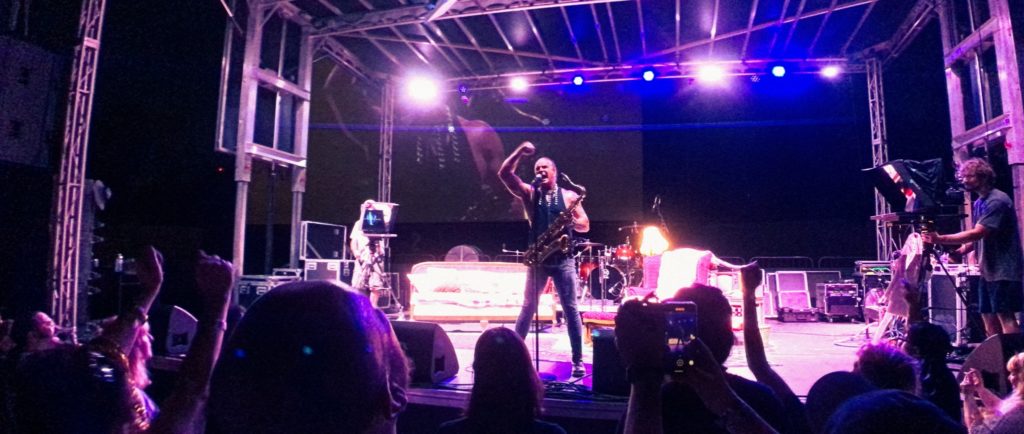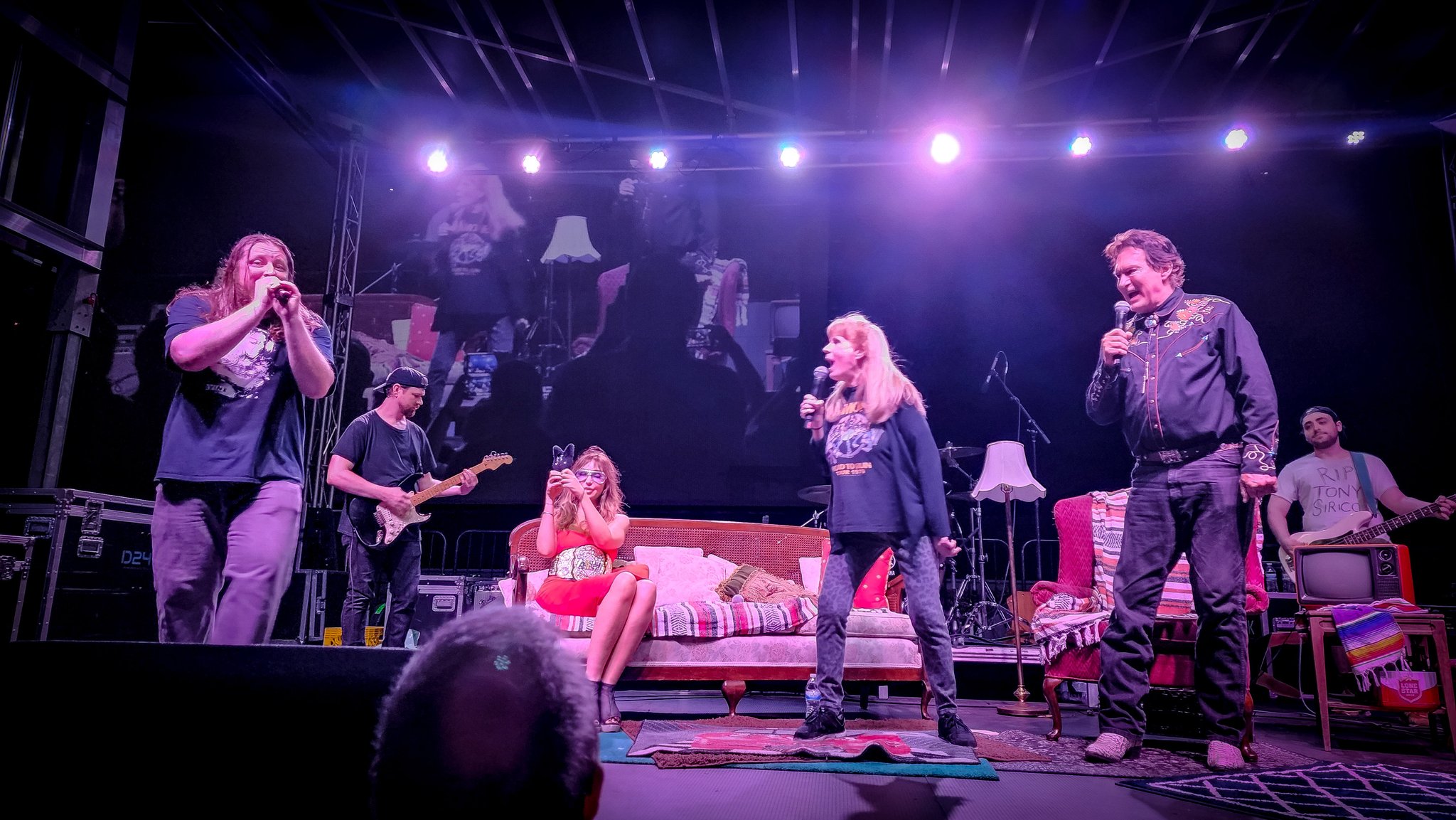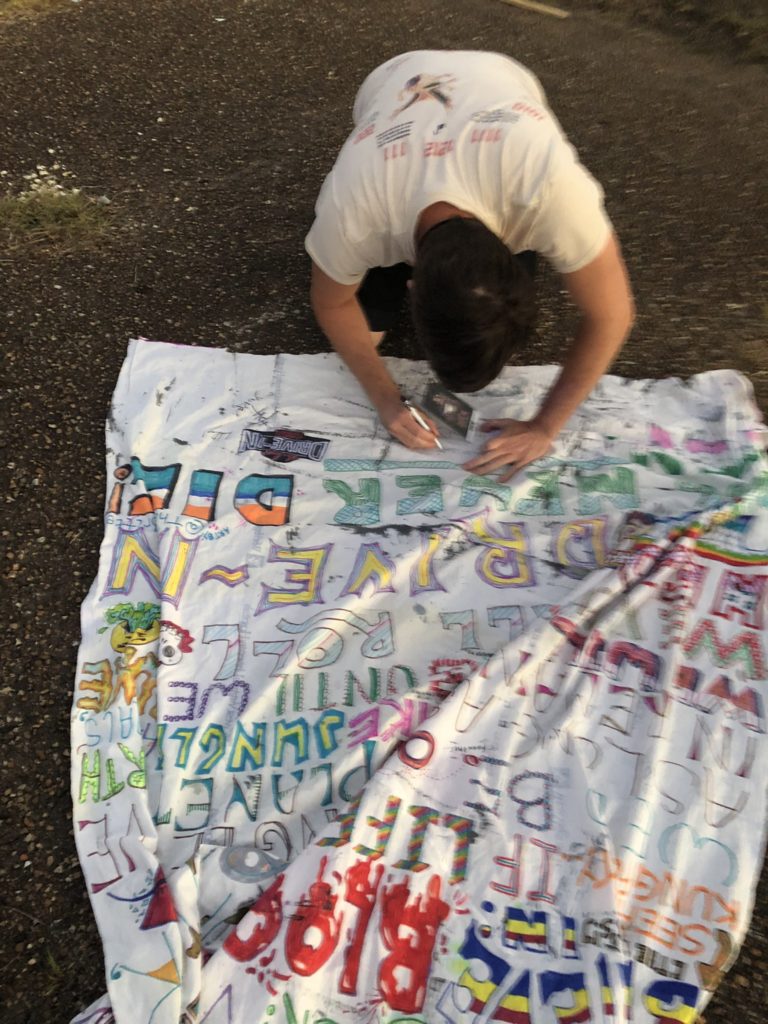 Heads will roll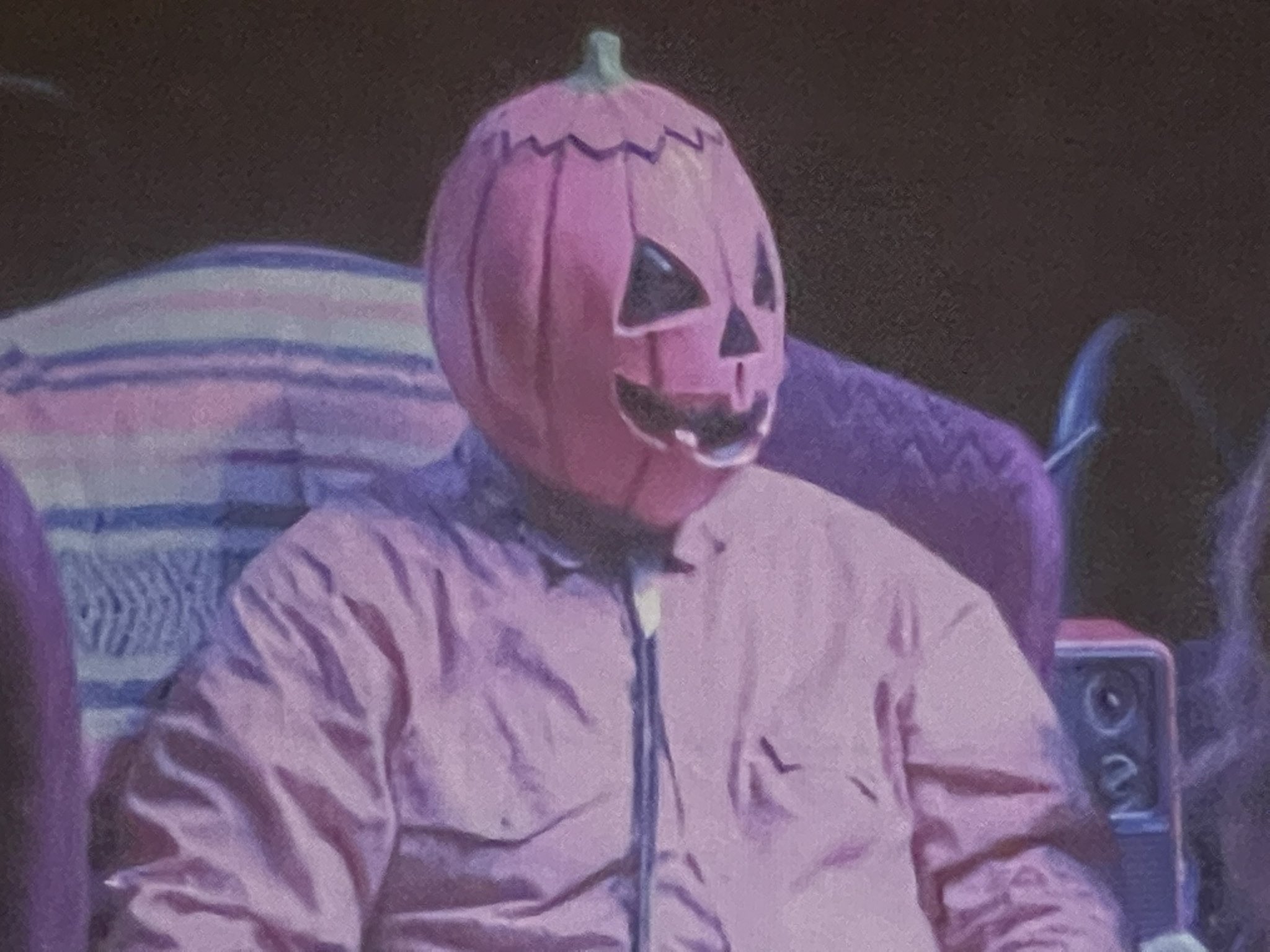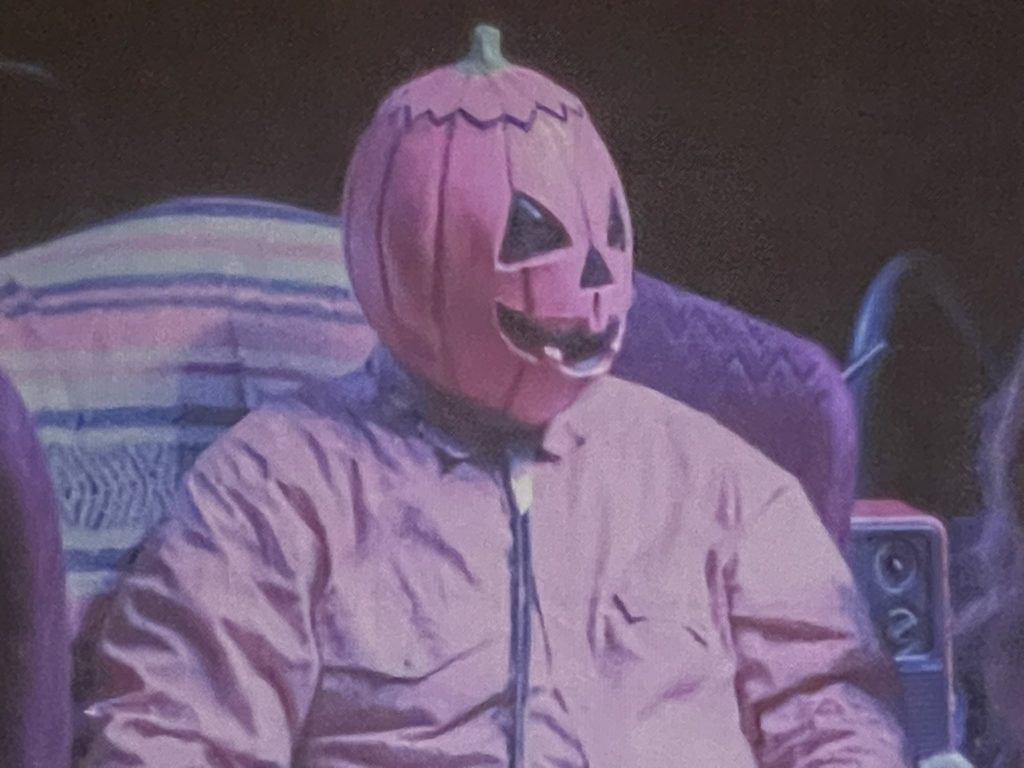 The drive-in will never die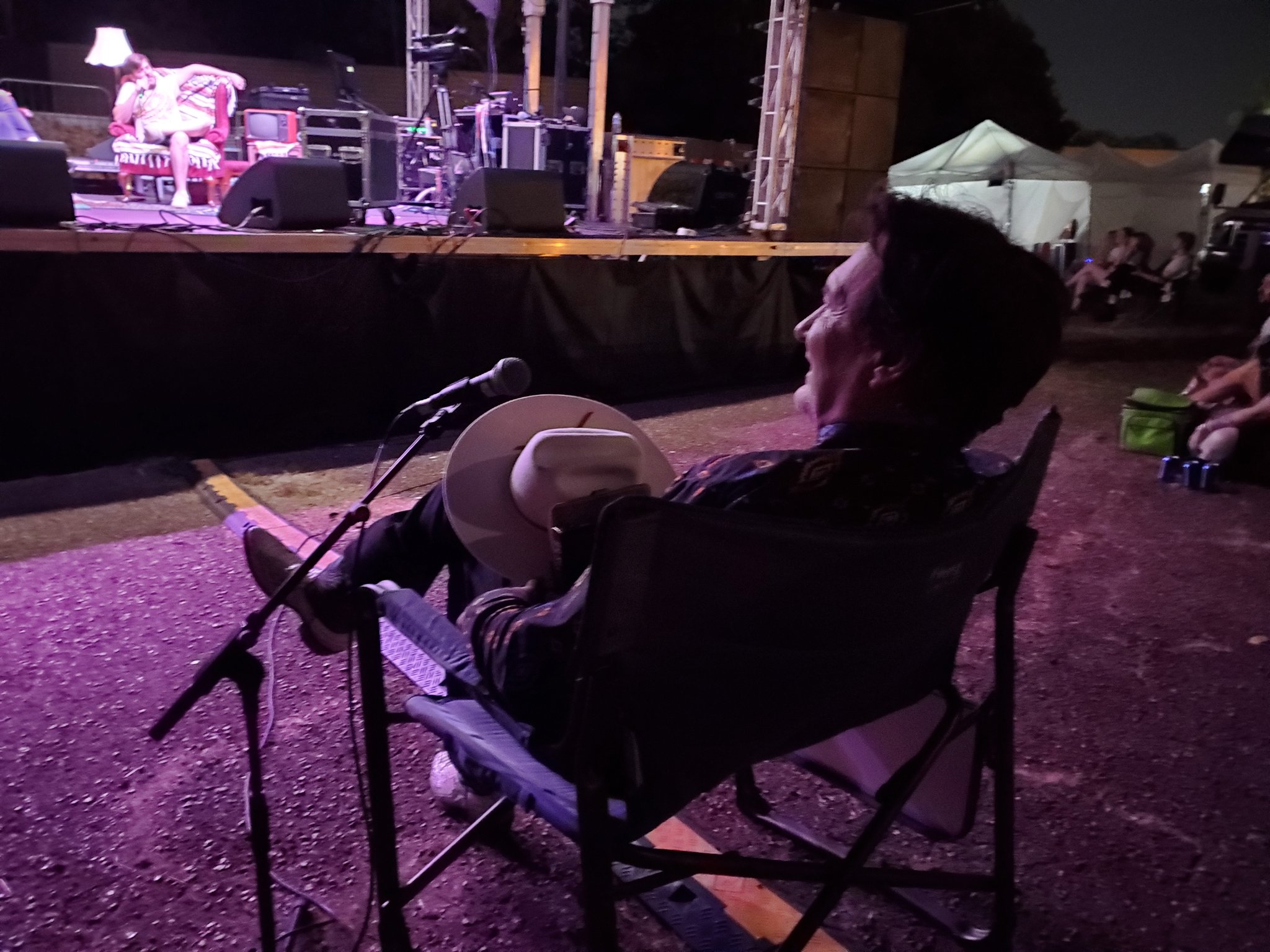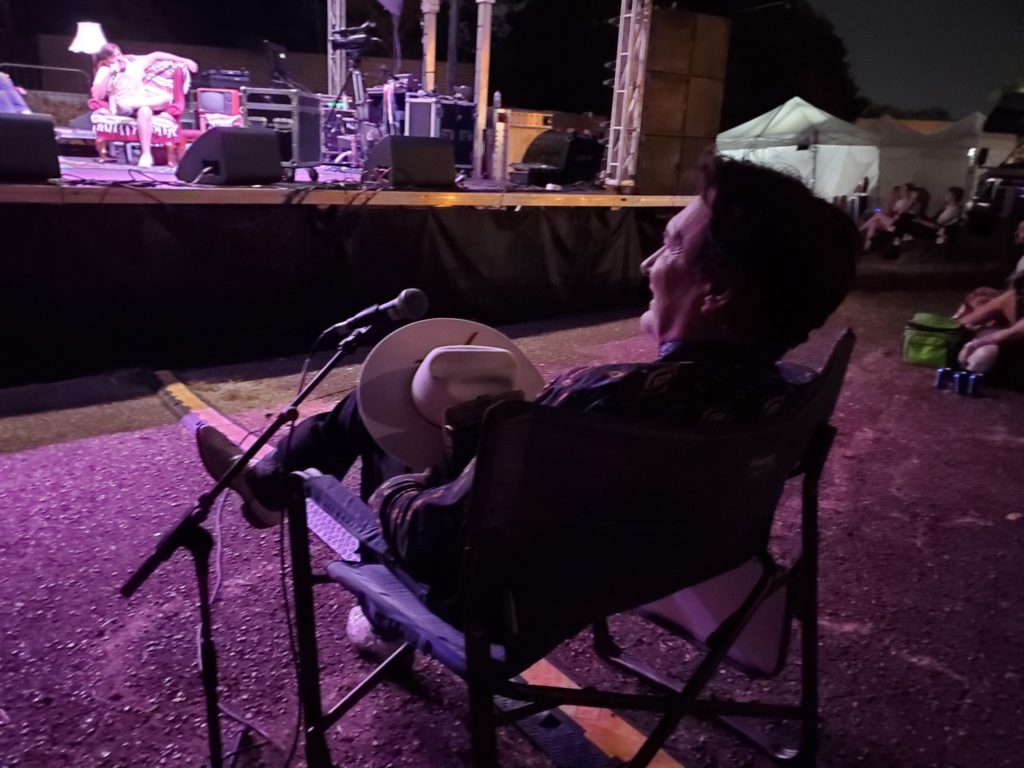 Amen.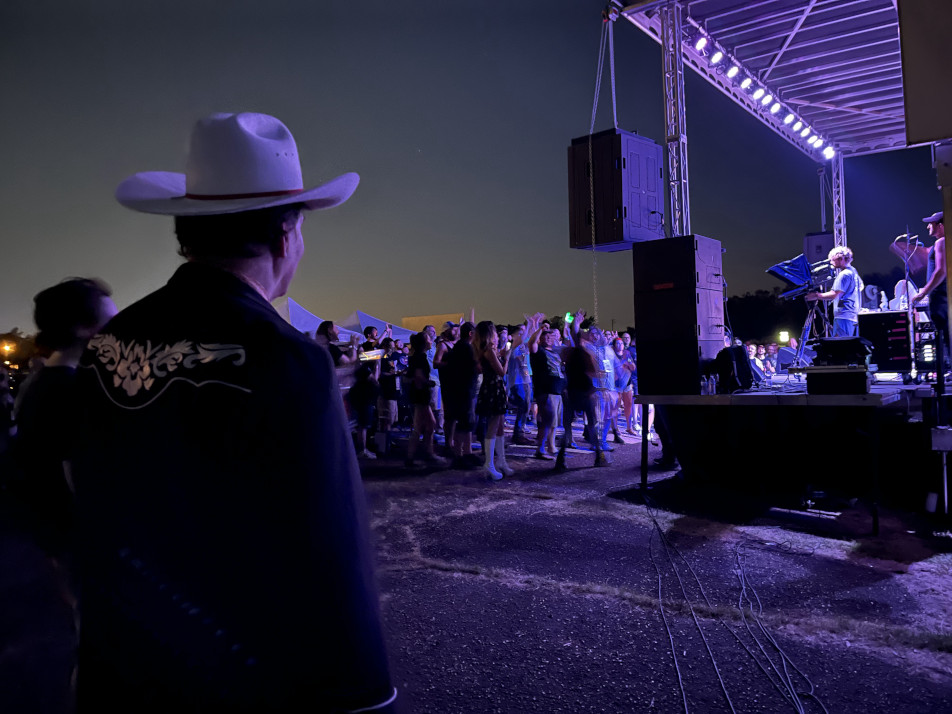 ---
And now, about those Hubbies…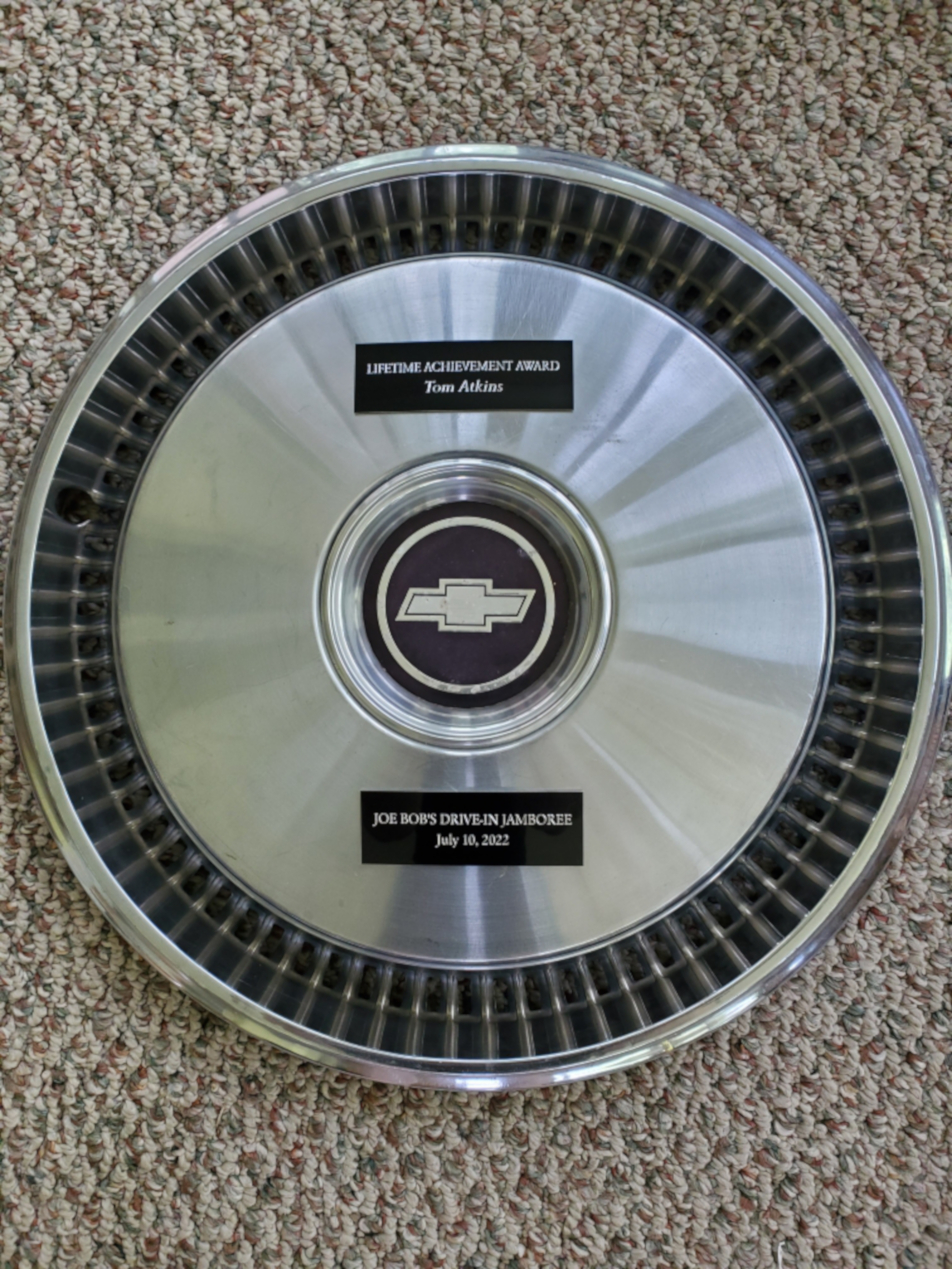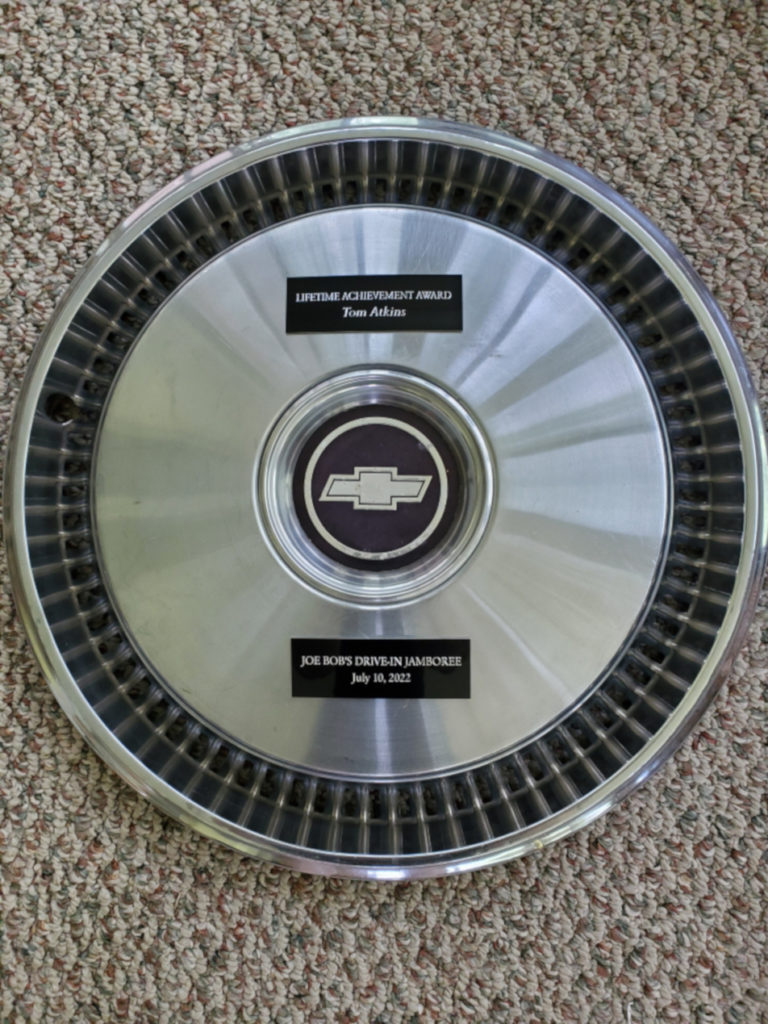 For posterity's sake, here are the Hubbie winners for the 2022 World Drive-In Film Festival as determined by their judgeships and the Big Guy hisownself.
The winners (in order of appearance) — we'll post the links to the flicks when provided by the winners …
Polybius
Directed by Jimmy Kelly, Mount Sinai, N.Y.
Jimmy Kelly has been a working filmmaker since 2009 and graduated from the University of
North Carolina School of the Arts in 2013.
He and his writing and producing partner Michael Tuite got a dozen friends and family members
to help make this film. Jimmy and Michael based the sheriff character on beloved genre icon
Tom Atkins — and were actually able to cast him!
What we have here is a geeky 1980s kid who gets obsessed when a new video arcade cabinet
rolls into the local magic shop and so he starts feeding it quarters until it starts frying his mind.
Yes we definitely have seen it before, but have we seen it with Tom Atkins AND a gratuitous
reference to "Halloween III" framed by glorious 8-bit resolution graphics based on an urban
legend? I think not.
Greywood's Plot (feature winner)
Directed by Josh Stifter, written by Dan Degnan and Josh Stifter. They're from Crystal, Minn.
Josh Stifter started making movies in high school, learned to animate in community college, then
went to art school for animation. He's directed cartoons for Kevin Smith, has worked with
Robert Rodriguez, and owns the award-winning film and animation company Flush Studios.
"Greywood's Plot" is Josh's second low-budget feature film, and it's a complete labor of love — he
and three friends went into the woods with a camera and an idea.
What we have here is a flick about a couple of guys out in Minnesota who don't get a ton of
viewers on their online cryptid pursuit videos but do get a mysterious videotape in the mail and
decide to venture out into the wilderness to investigate the dog-like monster they see on the tape.
The Mechanical Dancer
Directed by Jenna Jaillet, co-written with Josh Jaillet.
They're from Sunrise, Fla.
Jenna is an animator, writer, and director, and in 2010, she won the Student Academy Award.
She loves silent films from the 1920s and German Expressionism.
The concept for this film came to Jenna one night in the laundromat, and she and four other
artists from Thundercrab Studios created this animated short with some inspiration from The
Cabinet of Dr. Caligari.
A mad creator abducts dancers and mechanizes them. Will his assistant draw the line and rebel
against the crazed scheme?
Threshold
Directed by Mike Thompson, from Louisville, Ky.
Mike is a film geek who got his start in the editing room, then became a cinematographer, and
now directs. He's worked on music videos, commercials, and short films. Mike and his writing
partner — Joe Stockton, also here tonight — collaborated on the script.
A voiceover artist starts getting creeped out by her surroundings while she's home alone.
Last Day for Videos
Directed by Chad Campbell, from Kalamazoo, Mich.
Chad is a pop culture aficionado who does a bit of everything at The Alamo Studio in
Kalamazoo, MI.
As a nostalgia junkie, he decided to check out one of the last video rental stores, not only in his
area, but anywhere. When he got to know the people who worked at Family Video, he knew he
had to showcase it in a documentary.
Be Mine
Directed by Ryan Famulari and Anthony Famulari, brothers, originally from Long Island, N.Y. Both studied journalism at Stony Brook University (Go, Seawolves!), Ryan has an MFA in Creative Writing, and
Anthony has worked as an actor. They're self-taught filmmakers who founded Famulari Films
and now collaborate to make movies.
A romantic Valentine's dinner date goes off the rails big time after a confession of a past
misdeed during the nightcap.
Lethalogica
Directed by Tony Reames, who's done short films, music videos, and feature films — and one of his films screened at the 2020 Joe Bob's Haunted Drive-In.
He and his filmmaking partner Haley Leary — who's also the lead actress in tonight's film and is
here to accept the Hubbie — are Georgia filmmakers. Their $800 budget went toward wardrobe
and…the contents of the blender.
On Halloween, a dastardly cable guy confesses his misdeeds to a pair of angry customers and
receives his deserved comeuppance.
The Thing About Beecher's Gate
Directed by Jeremy Herbert from Olmsted Falls, Ohio, he took $250 and two weekends and made a tribute to the low-budget Horror Movie Cop classics he loves–and was inspired by John Carpenter's "Assault On Precinct 13."
A deputy is sent out to the middle of nowhere by the local sheriff to guard a shed overnight as
part of a longstanding tradition that might involve groundhogs or might be a prank. He's given
three instructions: 1. Wait. 2. Don't Run and 3. Let Them In.
Mannequins
Directed by David Malcolm, from the United Kingdom, he's wanted to be a filmmaker since he saw "Evil Dead 2" when he was 12. He's worked on other people's short films, but tonight's film is his first on his own.
What we have here is a group of self-aware mannequins doomed to play out a number of the
tropes horror fans are all-too-familiar with, but as always, there's a twist.
HeBGB TV (feature winner)
Directed by Jake McClellan, Adam Lenhart, and Eric Griffin. They're from Lancaster, Pa., and
they're first-time filmmakers.
"HeBGB TV" is a DIY film made in garages and basements in central Pennsylvania over the
course of two years. Jake, Adam, and Eric love horror comedy and made this movie for the pure
joy of creating, and they pride themselves on the fact that over half the cast and crew are queer.
It's the sensitive story of two yard monsters who are left at home by their folks who end up being
forced by this weird guy who kinda reminds me of the Joker from Batman (the Jared Leto one) to
watch a bunch of TV segments that send up horror tropes and television at the same time like
commercials, the Home Shopping Network and cable news. This one gets four stars for the hot
dog content alone, however I am not gonna be responsible for what happens once the Chili
Bandit and the Cheddar Goblin see that this Frank guy is horning in on their gimmick.
Keep an eye out for my reviews, and, regrettably, I don't have a good closer prepared, so I'll just …