All about the four-day 'Drive-In Woodstock' featuring How Rednecks Saved Hollywood, Mutant Fest, a live Last Drive-In and the Drive-In of Dread at the Mahoning Drive-In
On the first day, the Mutants saw How Rednecks Saved Hollywood, Burt Reynolds at his peak (cause Darcy was dressed up like him) and, oh yeah, the Mahoning Drive-In got saved.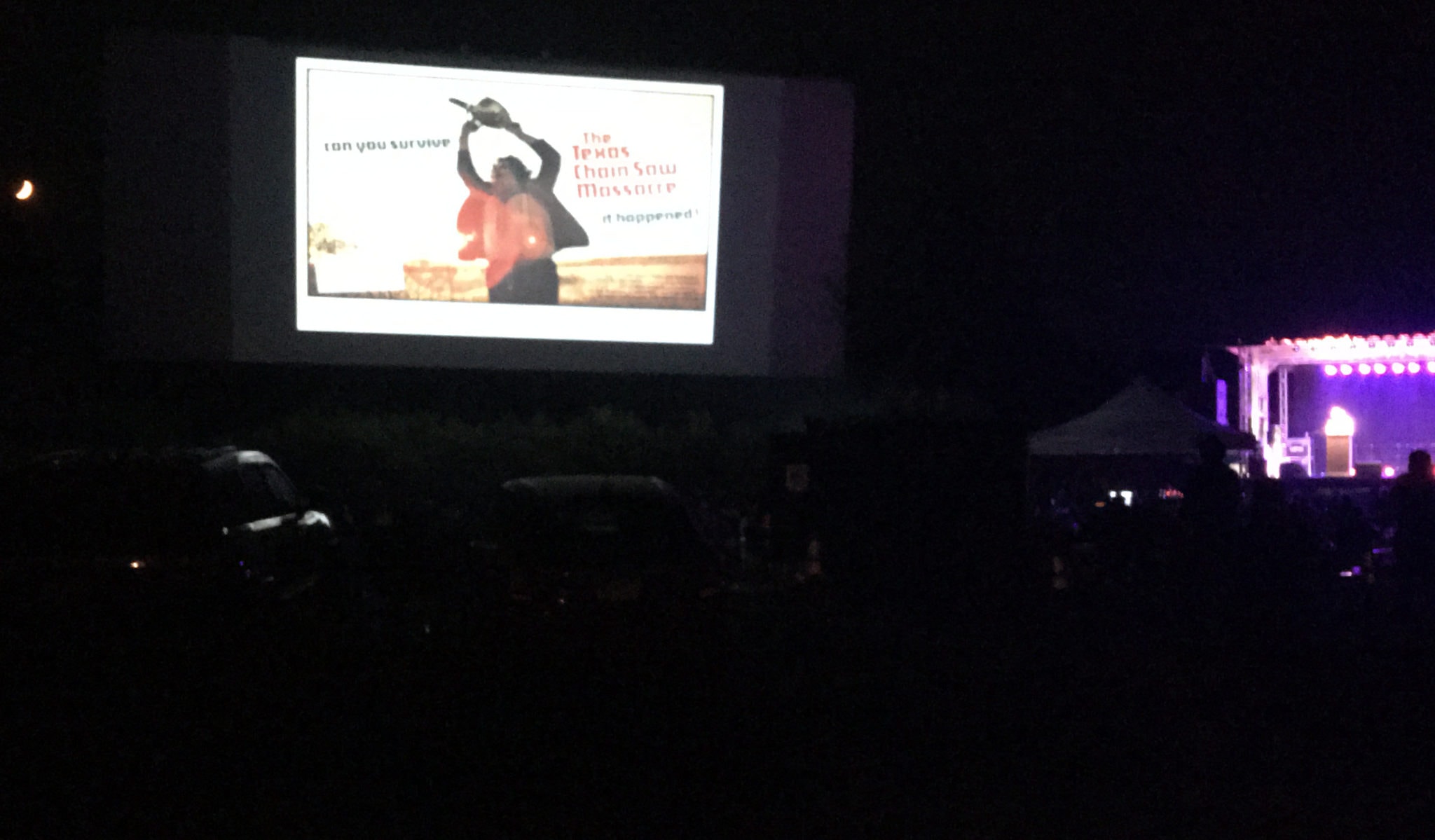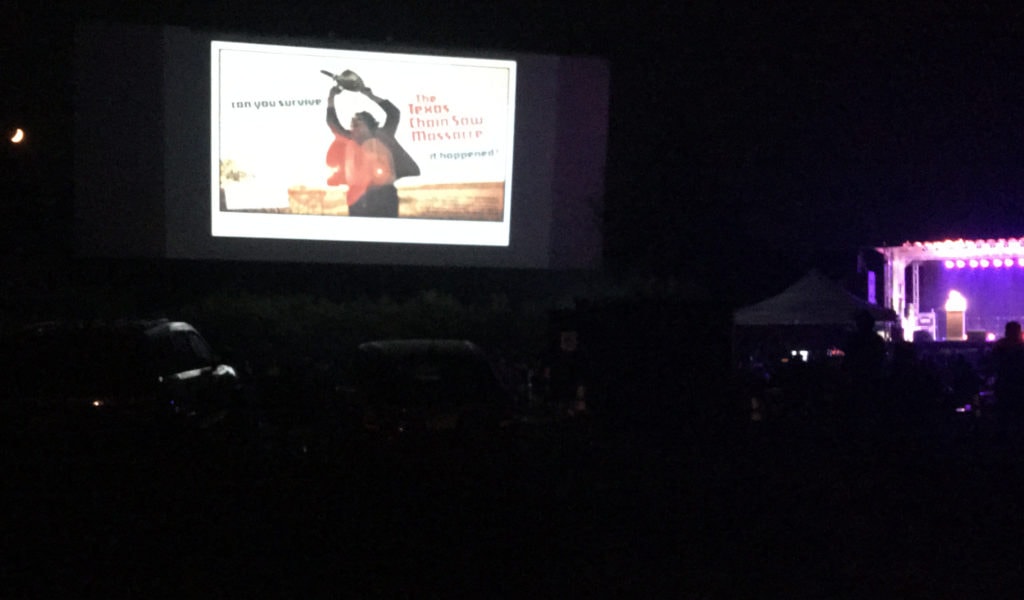 On the second day, it poured, and the Drive-In Academy Awards (aka Hubbies) were awarded for the first time since 1996 during Mutant Fest as the drive-in screen glowed rolled from dusk till dawn.
On the third day, it drizzled, and the Mutants got a little wet behind the ears during the first feature. But that was OK, because they got to see an episode of The Last Drive-In live and in the flesh (and it was an entirely different experience just being there).
And finally, on the fourth day, the younger Mutants got their due with creatures roaming the park, a Drive-In of Dread special playing the screen and two spooky classics from the 1950s featuring giant ants and Vincent Price.
And Ernie, Ernie's owner (we love ya, Austin!) and John Brennan were there, too!
Nope, neither rain, nor heat or bog of mud could prevent the Mutants from boogeying until they puked during the First Joe Bob Jamboree.
But before I get into the details about the first Mutant Fest and about how JBB and Darcy fought the good fight against bone-tired exhaustion to make sure as many folks as possible had as great a time as possible at this inaugural event, I want to pause to show my undying gratitude and appreciation to three stalwart Mutants who took refuge in Joe Bob merch HQ on Friday during the Rainstorm from Heck with its 50- to 60-mph gusts.
See, a big storm rolled through on Friday right before Joe Bob was going to appear at the booth, and I had all the merchandise set up getting ready to hook folks up with all the Joe Bob shirts, Darcy shirts, Joe Bob photos, Joe Bob and Darcy photos, Joe Bob posters, Ernie pins, Joe Bob facemasks, Joe Bob lounge pants and Joe Bob figures their hearts could desire. But then a flash flood soaked us, and the whole drive-in suddenly became that one scene from Caddyshack when Bill Murray and the priest are golfin through a hurricane and the priest blasphemes then gets shocked by the wrath of the Big Guy Upstairs.
There are pictures of this storm online. I'm not lying.
Fortunately, nobody at the Jamboree got hit by lightning and, even more fortunately, I had the help of husband-and-wife Randy and Jessy Piazza from Phillipsburg, New Jersey, and Drive-In Mutant Collective member J.C. Schroeder who took refuge with me and helped me chuck the stuff onto the tables so it wouldn't get soaked by a monsoonal River of Runoff.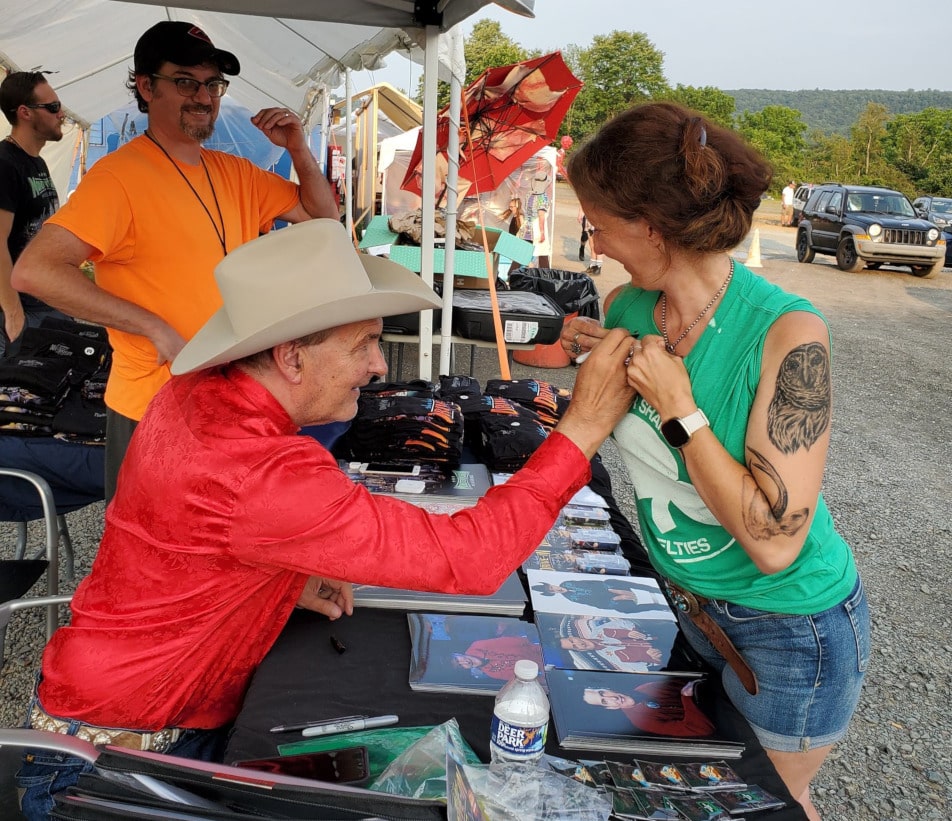 And let's also not forget to give due credit to Mahoning crew member Allison who helped out with the crowds on Days Numero Uno and Two-o and also did an impeccable job getting the shirts back in order, cause when a gulley washer hits and you have to shut the big suitcases REAL QUICK in order to prevent the Fright Rags goodies from becoming Sham-Wows, things tend to get scrambled.
Seriously, without the help of these folks, we'd still be wringing out the soaked shirts (my socks still hadn't dried out when Sunday morning dawned), and a lot of folks might have been walkin out of the Jamboree empty handed, so THANK YOU.
But the big thing I want to get to is Mutant Fest because it's the first batch of Mutant fruit that has been harvested since that super-inspirational One Cut of the Dead speech Joe Bob made on Season Two-o of The Last Drive-In. (Having a bad day? Don't like your lot in life right now? Watch it and get to work!)
And a note to filmmakers: If you want me to link directly to your work from this article, send the public link to nagybj@gmail.com.
Out of the 756 submissions to the festival (191 features) the grand-Hubbie winner was Tennessee Gothic, the sensitive story of a bunch of guys fighting over a nubile orphan to see who gets to aardvark her for the rest of their lives and so they grease her up like a pig and try to catch her and they then realize that maybe they don't wanna spend the rest of their lives with her. Directed by Jeff Wedding, you can buy it here.
The second feature flick winner was Loss Prevention, co-directed by Brian Cunningham, whose documentary Monsters Wanted and feature Wretch both have been reviewed on this very website. Co-directed by Matt Niehoff, Loss Prevention features Vernon Wells, who gave Mel Gibson problems in The Road Warrior (Mad Max 2 for all y'all down under) and went with a buzzcut and porn stache to fight Arnold the Barbarian in Commando, and pro wrestler Al Snow, who has one of the most hilarious Twitter feeds ever. A well-made techno thriller, Joe Bob had plenty of praise for the flick. See it for yourself here.
Ten shorts (in alphabetical order) also got Hubbies in between raindrops from JBB and Darcy as Featured Selections at Mutant Fest.
Box 616 (dir. Mitch Glass): A guy gets wrapped up in a forbidden, dangerous and possibly world-threatening experiment.
Cryptina's Spook-Time Variety Show (dir. Ryan Rigley): Albino mistress of the dark Cryptina and her ex-boyfriend-now-bat Ghoulsby introduce some sketches.
Down Jersey (dir. Joseph J. Greenberg): A telling of the Jersey Devil legend.
Feed Your Muse (dir. Brendan Beachman): The quest for artistic inspiration takes a lot out of a writer.
Lobster Tits (dir. Jessica Guerra): A woman contends with crustaceans on her garbonzas. It's got a John Waters vibe but with more seafood involved.
Malacostraca (dir. Charles Pieper): New dad goes mad. Lobsters, again, play a role (see above).
Reptile House (dir. Tristan Risk): A shifty guy who wants to get a snake meets a bigger one.
Spooky Town (dirs. Omar Shaukat and Anna Suzuki): A couple struggles to rebrand their haunt attraction during the pandemic.
Stalked (dir. Wesley Mellott): A trip out to the cornfield turns scary for some folks.
The Witches of Bushwick (dir. Catherine Delaloye): Pseudo-witches get whomped by real-deal supernatural forces.
There were also 28 Mutant Fest Official Selections encompassing one feature and 27 shorts screened by attendees that we encourage you to check out if you can via Google Fu until we get links sent to us:
Terror Trips (It was called On Location when we watched it) (feature, dir. Jeff Seemann): Folks explore Europe to establish their haunted tour attraction but get a cold reception in the former Eastern Bloc. It had its premiere at the Jamboree and is slated for a 2022 release.
Annie, We're Here for You (dir. John Veron): Annie and her best friend Terra go looking for aliens in the middle of the night in the desert.
Anxiety (dir. Blaine Thurier): People's inner demons make it to the outside.
The Backpage (dir. Brandon Lescure): A "sensual massage" booking goes horribly wrong for a man.
Bruises (dir. Anthony Martino): A mirror doesn't help a woman's looks.
The Camper: with Lila & Lucy (dir. Brad Cullen Fleetwood): Women face off against a killer.
Christmas Carvings (dir. Johnny Priest): Christmas Eve romance goes to heck.
Cottonmouth (dirs. Danny Salemme and Zach Wincik): Heather Langenkamp is stalked at night in her room.
Creature Feature (dir. Joe La Scola): A monster rampages through a coastal town.
Cursed (dir. Ryan Rigley): A curse turns a guy into a nipple monster.
Dead Air (dir. Matt Sullivan): A disc jockey unleashes evil with a recording.
Double Exposure (dir. Eli Luna): A Polaroid killer stalks victims.
Dreamer's Journey (dir. Mitchell Brangett): Daniel copes with sleep paralysis and possible madness.
Extended Scare Package (dir. Michael Pickle): A haunt actor follows some customers home with terrifying results.
Field of Screams (dir. Joseph La Scola): When parents do an ump wrong, he comes back for bloody vengeance.
Granny's Got Goblins (dir. Max Cross): Kids fight goblin hordes at Grammy's
Hamburger! The Rapist? (dir. Caleb Emerson): Faux trailer (with Voiceover Fu) about a criminal named Hamburger who eschews conventional dating for a more direct approach that ain't legal.
Motorway Macabre (dir. Matt Eckholm): A race driver challenges some ghosts.
Pizzaman (dirs. Rosalie Kicks, Katie McBrown): Helen and Teddy seeks vengeance on the pizza industry that took their son away from them.
Previews of Coming Attractions (dir. Brian Rainey): Some more fake previews that need to be expanded as God intended.
Raise Hell (dir. Jaxson Duron): A motorcycle-ridin killer pursues people who disrespect the spirit of Halloween.
Season's Bleedings (dir. Eli Luna): The merging of the seasons menaces a woman.
Screaming Soup! Strip Club (dir. Dan Fowler): An animated horror host has to fight his way out of a strip club visit gone wrong.
Sweetest Day (dir. Doug Hawley): The sole survivor of a murderer's rampage prepares to fight back for the killer's return.
The Thing in the Tub (dir. Jason Ewert): There's a bathtub. There's a thing in it. If you like Reanimator and Lovecraft, you'll like this.
Tracks of Terror (dir. David Stockton): A guy gets caught at a rail crossing. His ex shows up. Things don't go well.
Congrats to all the winners and to all the folks who had the courage to get their project done and to submit em! And please send in those links so the Mutant Family at large can see your stuff. Also, I would be shirking my duties by not giving a shoutout to my Papa Mutant, Greg Nagy, for being the Iron Butt Award Winner among judges. He checked out an amazing 473 of the submissions in Round Numero Uno. He's also a screenwriter, so if you're looking for a fellow Mutant to collaborate with, check out his website.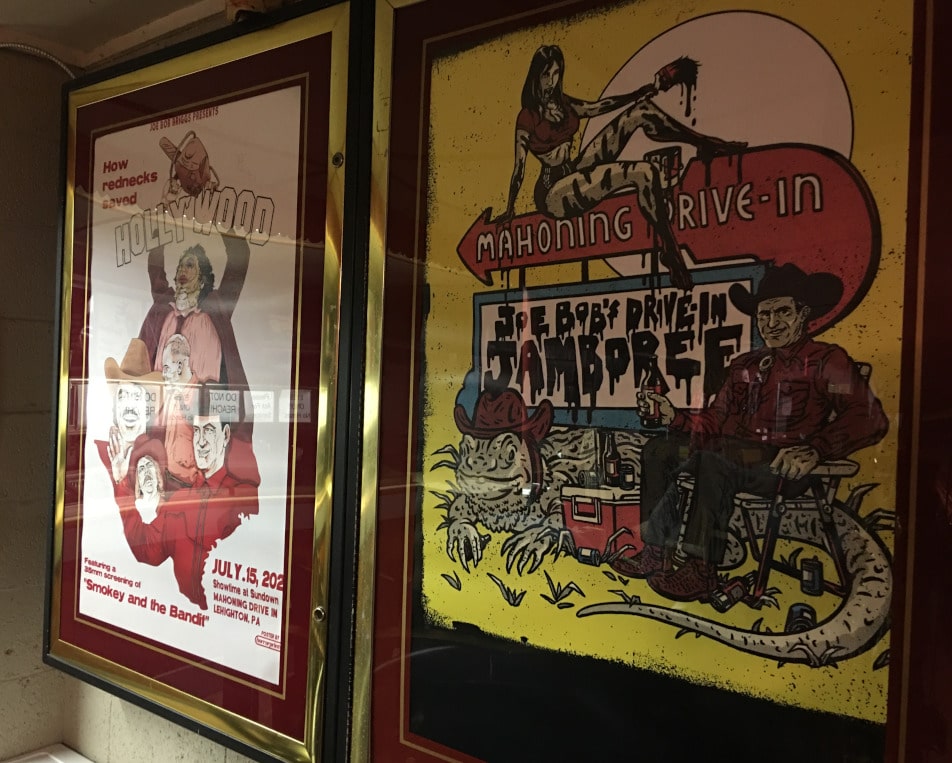 Speaking of Iron Butts — to note, JBB and Darcy stayed till 2:30 a.m. Friday; 3 a.m. Saturday, left at about 4 a.m. Sunday (the Last Drive-In ran long cause JBB had some choice rants), and finally, on the last night of the Jamboree, they got done at 1 a.m. after starting to meet folks at 11 a.m. the previous day. We know that even with all that work they still didn't get to everyone who wanted to meet em, but drop Joe Bob a line via email (joebob@joebobbriggs.com) and we'll find a way to make it good, and rest assured that we'll be working to make sure that any future Jamborees improve.
All in all, the Jamboree will be talked about for a long, long time to come. Some said it was like a "Drive-In Woodstock." They aren't wrong. You always remember your first time, no matter how soaked, hot or tired you get, right?
Let's do it again sometime!