The man with the striking resemblance to the late Charles Bronson is on a mission to save his daughter, but a hulking killer stands in his way
Writer-director Rene Perez is back with another in his series of "Bronsploitation" flicks, and this one merges his Playing With Dolls serial-killer franchise featuring an overall-wearing behemoth with his head wrapped up in barbed write who hacks people up with a saw-sword with his series of films starring Charles Bronson lookalike actor Robert Kovacs (aka Robert Bronzi) as a man on a mission.
I'm not going to go into the greatness and the popularity of Charles Bronson as O.G. Mutants will recall that Big Chuck was more than 50 years old when he became a top action star and by-God box office draw with 1974's Death Wish. This got Big Chuck many paychecks, and Joe Bob his own self reviewed no less than seven prime-era Bronson action formula flicks. Bronson won the 1983 Best Actor Hubbie award for 10 to Midnight while getting multiple Hubbie nominations in flicks directed by J. Lee Thompson and the like that were covered extensively in the original run of Joe Bob Goes to the Drive-In columns.
So what Perez is trying to do here is tap into the magic of having a guy who looks like Bronson do Bronson-type things in the modern era. (Yeah, let's face it — the 1980s were four decades ago). I've seen Death Kiss and From Hell to the Wild West, and they're watchable for the most part with some flaws, which I'll go into in a bit.
In Cry Havoc, we have a younger woman who comes to and finds herself in the middle of a forest fire shackled to a long chain. At the other end of the chain is this mute baldo hulking creepo who we later learn is named Havoc and is contained in a certain square footage of forest patrolled by paramilitary doofuses in camo and stocking caps who say "Echo" a lot — "Echo Base to Echo Leader, you're echoing," etc. She somehow escapes as Havoc instead is distracted by a paramilitary doofus whom he quickly dispatches.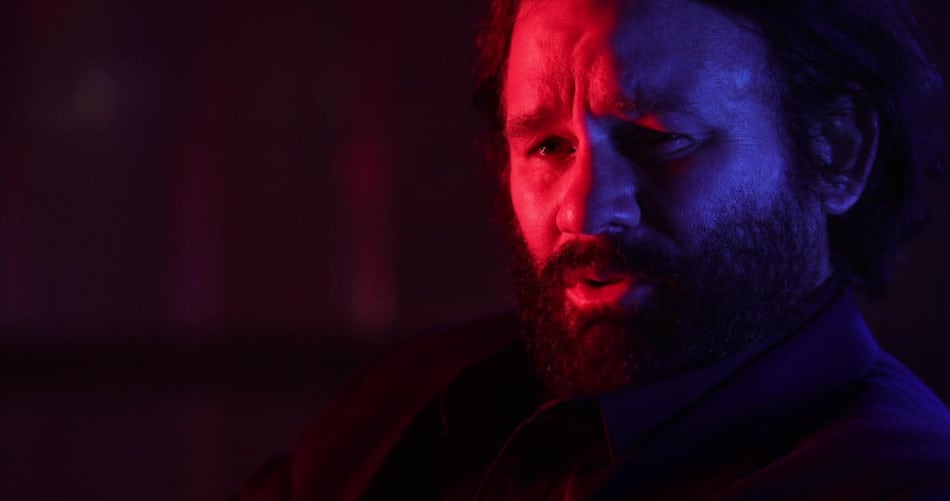 Turns out the paramilitary doofuses are in the employ of this guy called The Voyeur (Richard Tyson), an ultra-rich guy who gets his kicks by watching Havoc, the big hulk guy who he met in prison and bailed out, kill these people (mostly actresses who do not wear bras) in messy ways.
We get head-crushings, stabbings, intestinal yankings, jaw yankings, neck drillings, forced blood imbibing, crucifixions and disembowelments with the nasty looking saw-sword that Havoc carries.
But we also get Bronzi as a cop on the mission to find his estranged and missing daughter (the woman in the first scene), surveilling, running around in a leather coat and a butterfly collar driving a muscle car leading up to a climactic reveal that he's got a white tanktop underneath all that and is ready to throw some hands.
And get this — this is a slasher movie, right? Well, if you subtract what appear to be flashbacks to prior slayings by the big bad killer Havoc, Bronzi actually gets to kill more paramilitary doofuses than Havoc has victims in this flick!
So you have the three Bs, but there's a lot of filler.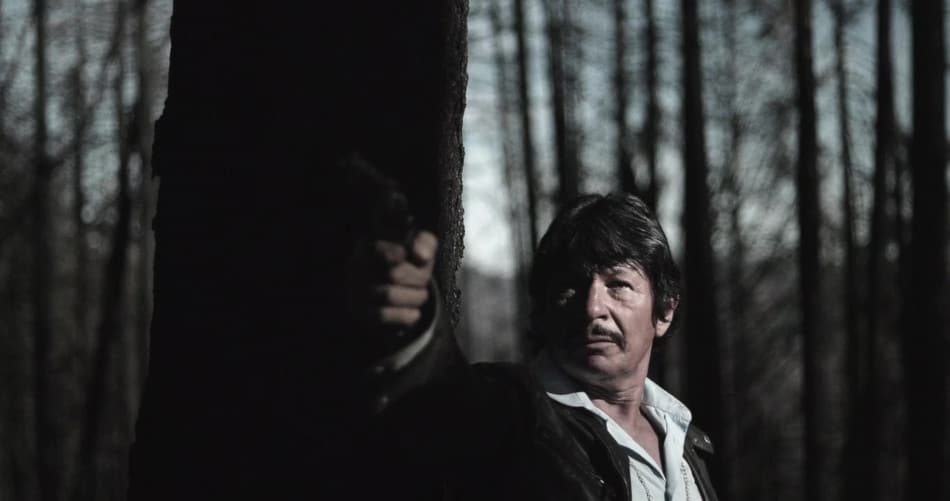 For instance, Bronzi spends almost the first 22 minutes smoking a pipe and looking through binoculars in the woods before getting to shoot someone, and then he shoots the guy TOO GOOD so he dies before Bronzi can interrogate him. Oops.
We also have this whole thing where a blonde TV journalist from Ottumwa, Iowa, named Ellen Weaver was invited by The Voyeur, who is one of the FBI's Ten Most Wanted, to interview him so he can explain his life philosophies and his search for truth. His side hustle though is to get her in a dress and tiara with LED lights and to perform a 0.65 Donald Pleasence-level rant about Havoc's dark eyes and talk them both up while sitting in a room bathed with red light: "He's a force of nature. I control death, I am its master."
There are flashbacks to killings from prior movies, which I have no problem with to take up some time, but it's pretty much the equivalent of the watermelon-head-crush Troma always uses because later on Havoc does the same gut stabbing, then yanking a bunch of intestines out of a victim.
And then the gunfights that Bronzi gets in take too long. In Death Kiss, there was a 10-minute pursuit of a guy in a junkyard with much running and many missed shots before Bronzi kills the dude. In this one, the pursuit/gunfire exchange takes a bit less time (and it might even be the same actor Bronzi's fighting) but for an ancillary henchman, the action scenes are a bit too static and slow-developing. Save the long fights for the main characters — Bronzi vs. Havoc or Bronzi vs. The Voyeur — the main action hero's longest fight in terms of screen time should not be with Sunglasses-Wearing Henchman Number 2 Whose Character Was Never Developed But it Takes Five Minutes to Kill Him Anyway.That rule is etched in the Drive-In Codified Code that is wedged underneath Joe Bob's recliner beneath about three empty Lone Star bottles.
Bronzi and the TV reporter also spend a good amount of time surveilling Bronzi's car when the paramilitary doofuses are loitering around it, which leads to a big split up.
Rene, buddy, we truly and heartfully thank you for reincarnating Big Chuck via Mr. Bronzi, but we need you to add in some one-liners about quiche, add some more majestic-sounding gunfire and loop in some groovy music and dynamic cuts to spice these action sequences up. You have something here, and the conclusions of both this and Death Kiss make me want more Bronzi action while we can get it. If you need some advice for Death Kiss II or Cry More Havoc, you let us know. Keep getting better.
Best Dress Code Enforcement, or Lack Thereof: The Voyeur keeps the garbonza count above fundamental levels by, I guess, requiring that all these actresses aspiring to be on his reality TV project not wear support.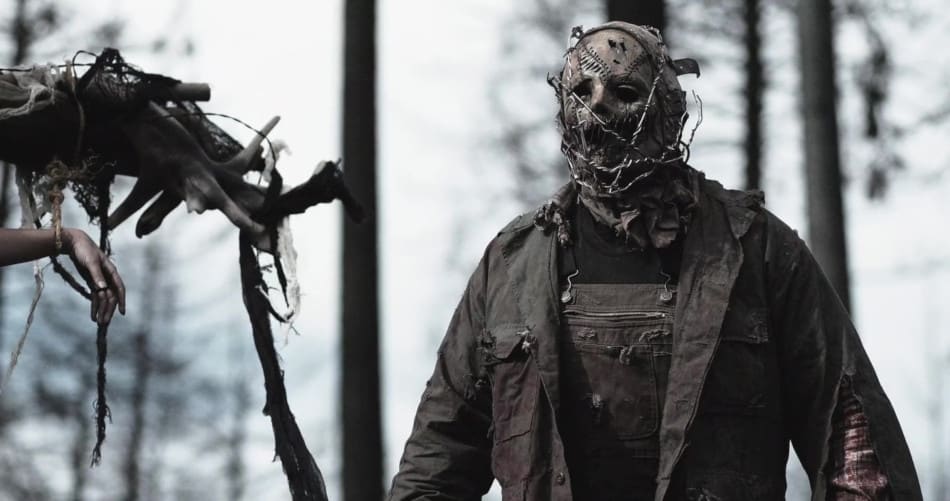 Best Procedural Step Enacted by the Hulking Murderers' Board of Standards and Practices: Either the Voyeur issued a memo or Havoc received an email, but in practically every murder, the victim's shirt or blouse gets torn off.
Best Body Count: Bronzi gets at least 10, Havoc gets five (not including potential flashbacks), TV reporter Ellen Weaver (Emily Sweet) had one.
Best Non-Fatal Wound: One of Havoc's victims gets her big toe sawed off, close-up and in slow motion.
Best Guns: Bronzi busts out a hand cannon, a machine gun and then his hands to save his daughter. The dubbing (he's Hungarian) has improved as well.
Three stars. Rene needs to beef up a few areas and tighten some others up to get that elusive fourth star, but this crossover is a step in the right direction.
Cry Havoc is available streaming on YouTube, Google Play, Amazon Prime and it's available on DVD as well.