Vacays, Mutant love, feminine sponges and a special edition of the Drive-In Totals
There may be 47,000 ways to celebrate Halloween – including Detroit fetish parties where people pretend to stab each other to death – but only one involves a Hootenanny! Last Friday night The Last Drive-In returned, proving once again that god loves us and wants us to be happy.
Airing before our Unholy National Holiday, Joe Bob and Darcy treated us to a little pre-Halloween foreplay in the backseat of a '67 Camaro convertible. Sure we've seen Halloween OG, Halloween 4 and Halloween 5 before. But have we seen it with Joe Bob, Darcy and the modern-day Epidaurus we like to call the MutantFam social media experience? We think not. Yes, the lack of Halloween III left us with a raging case of cinematic blue balls. But like that surprise Ferrero Rocher in your trick-or-treat bag you got from sneakin' into the rich neighborhood, it's never just about the movies. It's about the wrapper, layers of goodness, and the nut inside.
Only a Hootenanny can start with a grand tour of Mexico and Canada and end with a Lone-Star-filled pinata destroyed by a 2×4. We got so hungry just watchin we had to travel to Piedras Negras for a side of nachos. So much happened in fact, we had to break the recap into three parts – complete with gonzo art from T.J. Denton:
Post 1: Joe Bob's tourist recommendations; Hootenanny Drive-In Totals; and why Halloween may or may not be a feminist film but is definitely NOT a Lifetime movie
Post 2: From our very own Ben Nagy which covers what DOES constitute a Lifetime movie, villians specifically, and who the world champion Mutant is
And Post 3, complete with weapons-grade Job Bob rants, the near-total destruction of Yuki's Last Drive-In set, and a call from everybody's favorite teen-heartthrob-turned-Mafioso, Tom Atkins. Plus the best Halloween 5 review we could come up considering the source. Careful folks, this one goes up to 11.
All that plus links to Last Drive-Inposts you mighta missed and how Hootenanny turned into Mutan-Anny: a celebration of Mutant Cosplay, Mutant Michael Myers theories, Mutant fandom, and Mutant Family. Because after all, we're not like other people
Stuff You Can Only Do at a Hootenanny
Tourist vacations of the Riverwalk-Courtyard-on-the-Square-Plaza variety may include Ripley's Believe It Or Not museums, IMAX movies, water parks (with Screaming Child Fu), and novelty modes of transportation to nowhere (ahem, Staten Island Ferry). Not to mention gratuitous fudge. But there's stuff you can only see on a Joe Bob Halloween special. We think these Hootenanny Drive-In Totals say it all.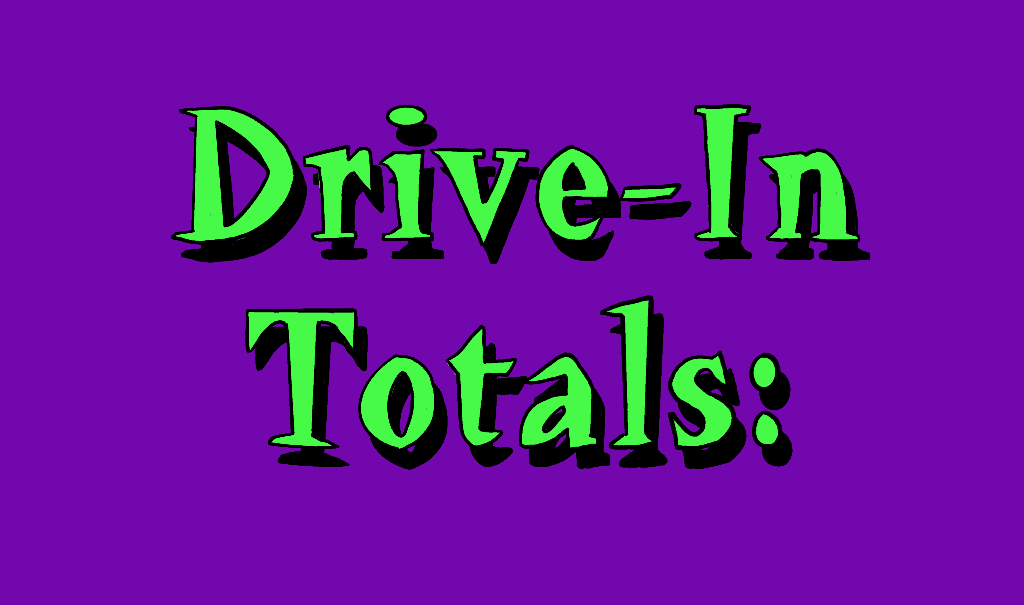 3 Movies
Countless Breasts (gracias Darcy)
5 Cosplay Changes
1 Lizard, Sporting Halloween-Themed Muscle Shirt and Tiny Sombrero
1 Nosebleed-Inducing Halloween Blazer
1 Tom Atkins Call, With Menacing Tones and Overt Threats of Violence
Partial Set Destruction, With Epic Rants
Bantering
Beer-Swilling
Harold-Pinter Referencing
Twitter-Checking
Executive Pussy Stretching
Gratuitous Switzerland Hatin
Gratuitous Feminine Sponge Decor
Theory Fu
Bolo Fu
Marionette Fu
Chris Jericho Fu
Drive-In Academy Award To:
Joe Bob Briggs
Darcy the Mail Girl
The Entire Shudder Crew including Austin Jennings, Justin Martell, John Brennan, Yuki Nakamura, Crystal House and Head Cheese Craig Engler
Ernie the Lizard
And of course MutantFam, The Joe Bob Briggs Mutant Collective and all the other names we weirdos go by
Three-and-Half Stars. Because like breasts, the conspicuous absence of Halloween III gets an automatic half-star deduction if you know what I mean and I think you do. Until I get fired, your Gratuitous Blogger – plus TJ and Ben – says check it out!
Can You Feel the Love?
Friday night wasn't just great for the Halloween franchise. It was great for the fans. Hootenanny featured our love for all things Joe Bob and Mutant talent on display including:
Michael Myers cosplay pics and theories
A Joe Bob marionette (which henceforth may only be voiced by Darcy)
Joe Bob and Darcy jack-o-lanterns
A fan-made Halloween t-shirt created just for our Mail Girl
Jen Manriquez and the The Joe Bob Briggs Fanzine
And even a mighty fine piece of love for the Last Call crew: yours truly and T.J. Denton. We're still pickin ourselves up off the floor 'cause after all, we're fans too. For a full list of all the Mutant shout outs, click here. With that, it's time to remove your Stetsons, put your hand over your hearts, and repeat after us: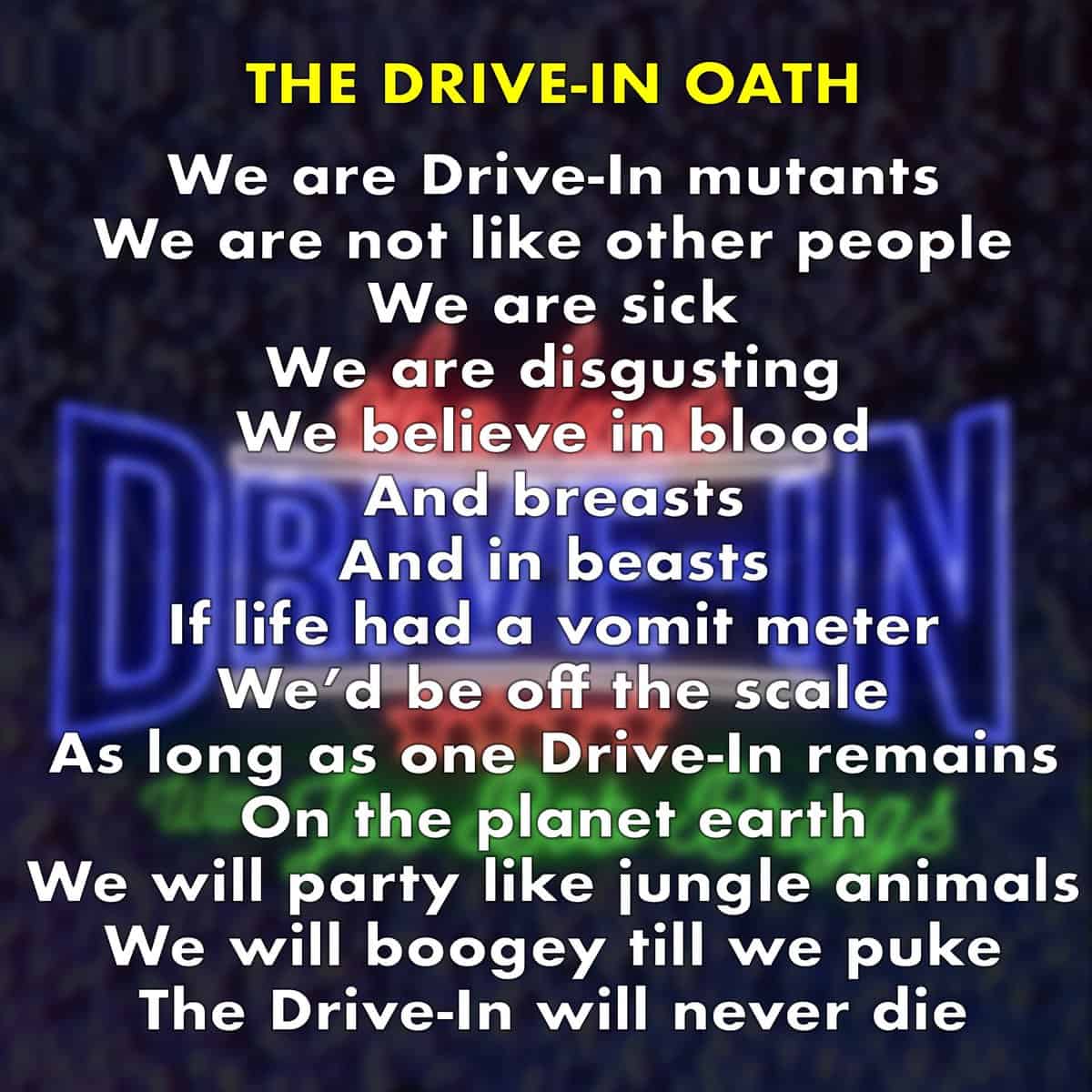 Joe Bob's Grand Tour
When it comes to culture, the best some of us can hope for is a long PBR-soaked weekend cavortin with our fellow Scotch-Irish at Dolly Parton's theme park in Pigeon Forge. Or maybe a stop along Arizona's I-10 to The Thing Roadside Attraction, complete with wooly mammoth leg and a 1937 Rolls-Royce with Stuffed Adolph Hitler Fu.
Thankfully, no Last Drive-In is complete without a Joe Bob cultural lesson. The Halloween Hootenanny featured his take on Mexico's Days of the Dead where you can feed nachos to dead people who wake up from their graves and party with ya, visit Piedras Negras (birthplace of said nacho), and take your pick between Dead Baby Day and Dead Grown-Up Day. Or head north to Niagara Falls, Canada, home to seven – count em seven – haunted houses, one Street of Fun, and a perfect 100 for tourism due to the aforementioned IMAX, water parks and copious fudge plus non-internationally famous magician dinner theaters and your very own souvenir Mountie hat. If that's not enough, there's always Canada's once-booming Maple Syrup Porn industry.
Joe Bob's love for America's border cousins was matched only by his contempt for apologist Chinese directors and the far-reaching SwissEuro-Syrian conspiracy that brought us Halloween 5. We'll save the Switzerland-hatin for Post #3. But needless to say, The Last Drive-In's overseas film rights might be in jeopardy.
Halloween: Or, Feminism Is Not Dead and We've Got the Sponges to Prove It
Debra Hill: Laurie is a strong feminist role model. Also, this movie has no boobs.


Joe Bob (in the voice of Judith Myers' midnight suitor): Yeah, sure babe.
Every once in a while, we try to engage in a bona fide movie discussion. So here goes…
In 1962 – the year before Michael Myers killed his sister in a fit of clown-clad pure evil – women's rights advocate and Cosmopolitan magazine founder Helen Gurley Brown wrote Sex and the Single Girl, a guidebook for women's financial and sexual independence. Maybe Judith read it? When it comes to women in horror, including Halloween, Feminism and the Final Girl might be an alternate title. Laurie Strode was not the first Final Girl, but she's one of the best because of Jamie Lee Curtis' performance.
Deborah Hill goes so far to say Laurie is fearless, which Joe Bob debates. The truth lies somewhere between. Famous Final Girl Sally Hardesty's confrontation with fear is largely physical; she's chased through half the script. Laurie's confrontation is mental. She's called a Girl Scout and MacGyvers a mean wire hanger. She has kids to protect and does. And even though she worries that guys think she's too smart, she's not afraid to mic drop the differences between Costain and Samuels' views on Fate. Is Laurie fearless? No. But there are three responses to threat – fight, flight or freeze – and she does plenty of the first. After all, this ain't no Lifetime Movie. Of course, you can't talk Laurie without talking Loomis. Check out Post #3 for that, including the night's Michael Myers speculations and our own theories about why Joe Bob was so dang mad!
Next Up: Post #2, or more Lifetime movie musins…